Halloween Memory
Sharing Stories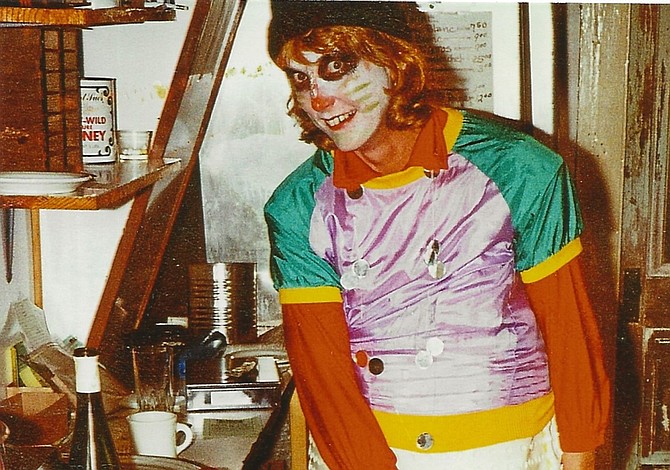 Looking back almost forty years, at a time when I was an adventurous free spirit—I wouldn't change any minute of the two-step forward, one-step back slow dance to life's surprises. The perfect storm of a big city rummage sale at the Olympic Hotel in Seattle, and a temporary move to the Long Beach Peninsula to work as a waitress in a friend's restaurant, was like cymbals clashing together, ringing a thunderous note to creativity…or so I thought.
Having a limited personal budget, I entered the Olympic Hotel. The air felt electric, with history and sadness floating like clouds carrying jolts of static shock. People buzzed by the sale tables like hungry locusts grabbing everything within reach. Price tags for tidbits of small mementos were a luxury beyond my means, until I saw a stack of unwanted white bathmats with an inviting "only one dollar" sign. I knew it was weeks before Halloween, but I imagined the bathmat suction cups looked like suckers on octopus' legs. I had been bitten by the costume bug—inspired by moving to the sandy Pacific Ocean. I bought eight mats, a true bargain, exactly the same price as a silver serving spoon that would surely have been hidden and buried in a cluttered kitchen drawer.
In a flush of bright ideas, I tossed the hotel treasure into the car trunk and rushed to downtown bargain basements, tingling with anticipation. The Bon Marche' basement had pajama bottoms with feet, missing the top and a price so tempting I looked forward to wearing them long after Halloween. I found a black beanie skull cap that looked ready for an ocean voyage, marked down ridiculously low at Frederick and Nelson's, where I couldn't resist buying Frango Mint Chocolates to celebrate—ooh-la-la and yum. Walking along 5th Avenue, I stepped into Nordstrom's basement at Pine Street. After sorting through special sale bins and joining shoppers who were tossing clothes in the air like limp Frisbees, I found two perfect tops an octopus would be thrilled to wear. On the way out of town, I stopped at the Costume Display Store and filled a basket with eight plastic pumpkins, small round mirrors to give an illusion of water drops, and makeup…I knew a mask might block my vision. I drove back to the beach smiling, ready to construct an octopus body to wear during Halloween dinner shift.
The first sign making a rubber octopus wouldn't be a breeze—clear airplane glue ate holes in the mat, like termites chewing wood. The local hardware store had boxes of gold, two-pronged fasteners, a satisfying discovery to create a body and eight smiling plastic pumpkin tipped legs.
Halloween night, I wore my memorable and surely prize-winning octopus costume. Full of the Halloween spirit, I greeted the first few tables with an enthusiastic, "Trick or treat" and floated through the dining room like an octopus gracefully swimming in the ocean. The dinner rush proved my genius idea had flaws when worn—hot, heavy, and bathmat sweaty. Rubber does not breathe. I felt like I was a walking sauna! When I passed by chairs, the suction cups stuck to the backs, making pop-pop-pop sounds as my octopus body and legs circled the dining room, attaching to anything not moving. Sticking here, popping there, a one-woman octopus band, shining in a sea of sweat.