Dick Stein and Nancy Leson: Hosts of the local radio program about food—Food for Thought
Are you a fan of KNKX's radio program Food for Thought? The weekly show features Dick Stein, host of the station's Midday Jazz show, and Nancy Leson, well-known food writer and cooking instructor.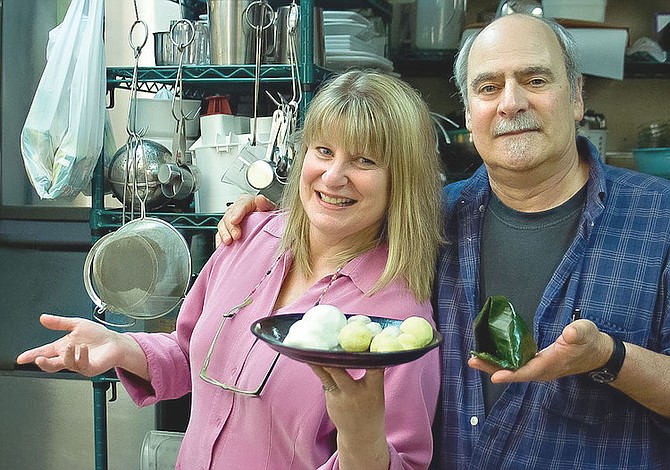 DICK: When we host any big family meals, I always put a sign on the front door: "No Politics."
Links to recipes can be found at www.knkx.org/term/food or www.nancyleson.com, including one of Nancy's favorites—cranberry sauce with sour dried cherries and rum: www.knkx.org/post/save-time-stress-and-sanity-thanksgiving-make-aheads.
"It's famous, it's really easy and you can make it in advance. It lasts forever."
Dick Stein
Dick Stein started his radio career back when he was in the Air Force stationed in Alaska. In addition to co-hosting and producing Food for Thought, he's hosted jazz and other shows with KNKX since 1992.
"I've been a jazz fan since I was a kid," says Dick, who grew up in New Rochelle, NY. "I used to go to Birdland as an underage kid. I got to see Stan Getz, John Coltrane and the Maynard Ferguson Big Band. I can't tell you how many different acts we saw. Me and my friend, Frank, would go down a little set of stairs where you could buy a ticket, just like at a movie theater. We were 15 or 16 and really felt like a couple of sophisticates." They would also stand outside of the Metropole listening to jazz, freezing but taking in the fog of warm air that wafted out whenever anyone came or went, smelling of cigarette smoke, perfume and liquor. "To our 15-year-old noses, it smelled like heaven," he recalls fondly.
When he joined the Air Force, Dick started out in teletype maintenance and cross-trained into radio. Soon enough he had a part-time radio job off-base, and stayed with radio after leaving the Air Force. Long before joining KNKX, he hosted country, classical, top-40 and, for five years, had a call-in talk radio show.
"After five years of the call-in show, I thought I was done with radio," says Dick. "It was very stressful."
In 1976, he and his then-girlfriend decided to move to Washington. They lived in a '59 VW bus for six months, seeing the country and visiting friends along the way before settling in the Tacoma area. They weren't hippies, he claims, "but we sure looked like it."
Dick still lives in Tacoma, although now with his two cats and wife of 30 years, Cheryl De Groot. "She would say 30 long years," quips Dick. Cheryl is a nationally noted metalsmith and jewelry designer. In addition to her work as an artist, Cheryl's website, https://www.cheryldegroot.com/, reveals that she has "also worked as a shipyard welder and rigger, Alaskan commercial fisherman, artist's model, bartender, cab driver and assistant chimney sweep." ​To learn more about Cheryl De Groot, you can catch a video about her created by the City of Tacoma Arts: https://www.youtube.com/watch?v=9ltv6gSFRWg&t=23s
In between moving to Tacoma and starting with KNKX, Dick began a chimney sweep business (named Pickwick), freelanced as an advertising copywriter, and dabbled in voice-over, character modeling and corporate films.
"I never thought I would be in radio again." But, as fate would have it, his neighbor across the street, Nick Morrison, was the morning jazz host at KNKX (then KPLU). "He talked me into filling in at the station," says Dick. "One thing led to another, and I went fulltime 28 years ago."