Dick Stein and Nancy Leson: Hosts of the local radio program about food—Food for Thought
Are you a fan of KNKX's radio program Food for Thought? The weekly show features Dick Stein, host of the station's Midday Jazz show, and Nancy Leson, well-known food writer and cooking instructor.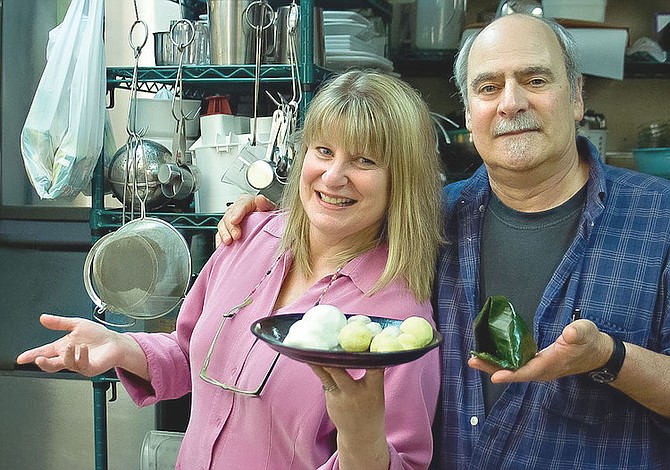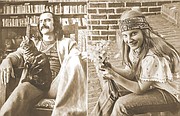 Every week, Dick and Nancy share their views on cooking and eating as they joke, bicker and laugh. They have fun together while discussing anything and everything related to food. Think Car Talk, NPR's long-running radio program, except Dick and Nancy discuss edibles instead of automobiles.
As Dick explains, "We're a couple of friends talking about cooking and eating. Of course, the show is about food, but mostly we want to entertain each other and hopefully the people listening will have fun, too." They both love to cook, and discuss recipes and their latest cooking adventures, but, as Dick says, "We're not chefs, we're just a couple of everyday people who like to talk about it. I think we have the most fun when we disagree. We're good enough friends that we can tell each other 'you're full of it.' "
"Yes," says Nancy. "We're like an old married couple giving each other the business. Our banter works because we have the same sensibilities and grew up in similar households. In the end, we truly love and respect one another. We are the yin to each other's yang."
A Food for Thought retrospective earlier this year had the two looking back on some of their favorite shows – these exchanges illustrate the couple's dynamic:
Nancy exclaims, laughing, "Our Great Bagel Bake-Off! My one-hour bagels versus your three-day bagels!
Dick: "And guess which won? Mine."
"No!" responds Nancy emphatically.
Dick: "That's right, it came out a push (a tie) ...at least that's what you claimed, and I let it go." Later online he added, "I have chosen to let her believe that."
During the same show, Dick asked Nancy if she had any regrets about Food for Thought.
"You bet I do," she retorts. "I still can't believe you lost our outtake tape!"
"Count your blessings, Leson," was Dick's rejoinder. "Those outtakes were my retirement plan. I was going to blackmail you with them. Now I just gotta hope I croak before I run out of money."
Between all the banter are some great cooking tips, recipes, favorite restaurant dishes, food blogs and other resources.
Over the 13 years of the show, the two have become close friends. Before that, even though they had much in common, they had never met. Now they talk and text almost every day and look forward to some good laughs during their weekly shows. "We don't have specifically defined roles," says Dick. "We both cook, but I would defer to Nancy on anything to do with restaurants."
Nancy adds, "In a lot of ways, we're like a couple of neighbors leaning over the fence talking about food." She hears from people all the time who don't cook but love the show because it's so much fun. "Whether you cook or not, we all eat, everyone has that in common." That, and the laughter ain't bad, either.
Dick's and Nancy's tips for hosting holiday gatherings:
NANCY: I make the main dish and the rolls (because I make great rolls!). Ask your guests to bring the rest. Sub things out... it makes things easier. Don't be shy."