Amp up the adventure in Hells Canyon!
Travels with Deb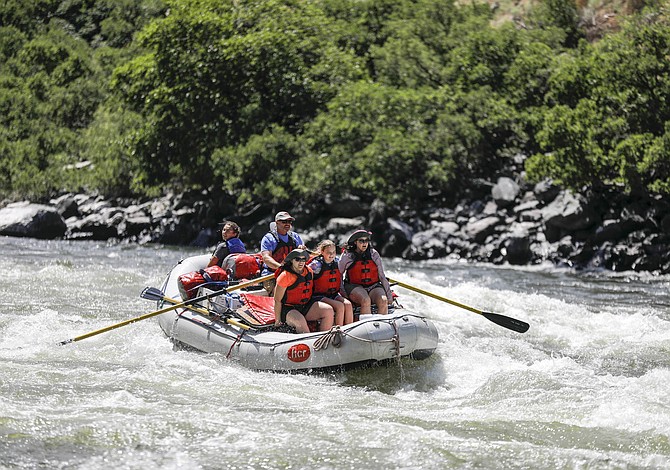 "Let's paddle," says our guide Barry in a calm, relaxed tone. We obey, albeit a bit distractedly, as we're busy chatting with one another. Then we hear that telltale roar – the one that signals some mighty big rapids are ahead. Soon, we see them in all their frenzied glory. And now Barry urgently yells, "Paddle hard everyone!" We immediately dig into the churning whitewater, whooping with unbridled enthusiasm. The noise is deafening, but somehow Barry makes himself heard, bellowing at the top of his voice, "Charge!" It's all hands on deck now, as we head into a massive wall of green. We feel the power of the water, pitching our boat in every direction. Mother Nature's reminding us she's in charge.
Though I furiously keep paddling, I realize at one point that my oar is only grabbing at air. Before I can adjust, a massive surge hits the raft, walloping it in serious punitive fashion. I'm thrown off balance and feel myself starting to topple overboard when suddenly a hand grabs me hard and I fall back into the boat. Saved for this round!
We all look like drenched rats after the waves finally spit us out, but we're so stoked! We clap oars overhead to congratulate ourselves on making it through another hellacious rapid without losing anyone. Now we can comfortably sit back and watch the other boats navigate this white knuckle rollercoaster in Hells Canyon.
I had always wanted to see Hells Canyon. The name alone was enough to arouse curiosity. And I had heard one of the best ways to explore this infamous place was via a raft trip down the Snake River. I opted to do a four-day adventure with Hells Canyon Raft to assure I'd have ample time for the full experience.
Hells Canyon Raft has a stellar reputation in the industry and takes pride in its highly trained guides, top of the line equipment, attention to detail and exemplary safety record. The company has been family-owned and operated for over thirty years and consistently receives top ratings from travelers, who view its raft trips as the adventure of a lifetime.
The Hells Canyon National Recreation Area straddles the borders of northeastern Oregon and western Idaho and contains over 650,000 acres of unparalleled scenic beauty. It's a vast and remote region that is home to North America's deepest and narrowest river gorge – deeper than the Grand Canyon by 2,000 feet. Carved by the steady erosive force of the great Snake River, Hells Canyon plunges more than a mile below Oregon's west rim and 8,000 feet below He Devil Peak of Idaho's Seven Devils Mountains.
To comprehend how deep the canyon is, imagine six Empire State Buildings; 47 Niagara Falls; four Yellowstone Canyons; or nearly two Yosemite Valleys. It's been said that you could drop the entire Catskill Range into the canyon and still come fifteen hundred feet short of filling it.
As for the gorge's name, no one can exactly trace its true origin, though, it most likely has something to do with the wild journey a boat endures through this stretch of the Snake River. The river, on the other hand, refers to the Native Americans who lived in the region. To identify themselves years ago, they used a hand sign that resembled the movement of a snake. Although it didn't mean "snake," that name was given to this group of people, now known as the Shoshone. The river that ran through their land was eventually give the tribal name. Today, a portion of the Snake River within Hells Canyon is designated as a Wild and Scenic River.