Seattle Rep's "Tiny Beautiful Things" Is 90 Minutes of Drama & Suffering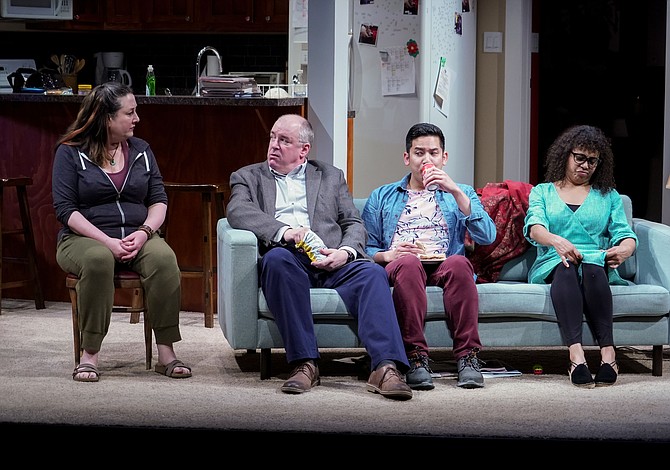 Seattle Rep's latest offering Tiny Beautiful Things presents a vision of popular writer Cheryl Strayed's book based on her years as the anonymous advice columnist "Dear Sugar." The entire show is devoted to the letters sent to Strayed / Sugar and her advice that primarily centers around her own suffering. Thus, pain and suffering is the thread that flows throughout the entire show.
Buddhist teachings say that we are all swimming in an ocean of suffering (samsara) that is so all encompassing that we don't event notice it exists. We're like fish in water, and Tiny Beautiful Things is a show devoted to showing audiences how we all tend to bask in that suffering and ego clinging - telling our stories over and over until we actually believe that we are the stories.
The show is a dramatic portrait of average people's lives and problems in which all the characters - including Strayed herself - focus continually on how miserably they have been treated and what they can do to make themselves happier - generally at the expense of others. Nowhere does the audience witness the slightest spark of concern for others, even from Strayed herself as brilliantly portrayed by Julie Briskman.
In fact, the entire cast of three "Letter Writers" plus Sugar does a great job of bringing intense drama to the stage, which is where it is most useful for people. Unfortunately, the majority people fill their lives with painful drama, and that gives them plenty of painful stories to share with friends as well as advice columnists.
Letting go and forgiveness are primary themes of Tiny Beautiful Things
, however in this show everyone continues to hold on as tightly as possible to their suffering. It's the only stories they can tell, and it makes the performance very dramatic. Still, most people may have the opportunity to see glimpses of themselves in the stories and perhaps gain some insight into what is causing their suffering.
Certainly, there are some moments of levity, but all in all, Tiny Beautiful Things provides lots of angst, drama and pain. Still, it's worth seeing as, no doubt, many people will see themselves in the mini plots portrayed on stage.
Tiny Beautiful Things> continues at Seattle Rep through June 23.