Taking the parsley challenge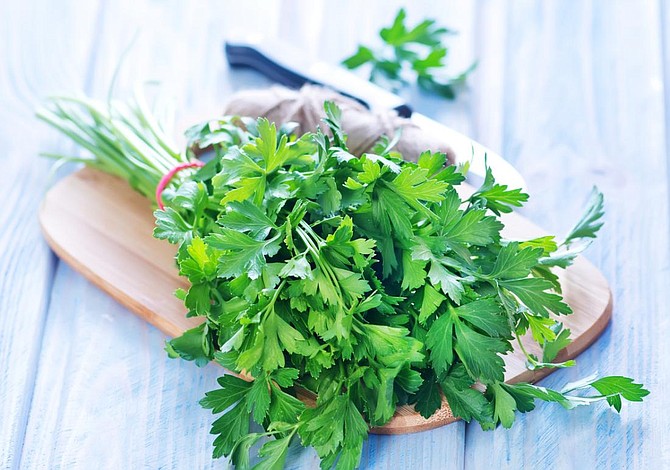 Spring is here! With all the green growth happening, it's time to stop using dried herbs and concentrate on fresh ones. Fresh herbs have a brightness and fragrance that are lacking in dried herbs because drying evaporates oils that give herbs their flavor.
If you haven't used fresh herbs before, I have a challenge for you. Buy one bunch of fresh parsley. Buy the flat-leaf kind, it is much more flavorful than the curled-leaf type. Cut off the bottom half-inch of the stems, remove the wire holding the bunch together and put the bouquet in a cup of water on your kitchen counter.
Every time you cook, add parsley to whatever you are making, and use a lot of it. Chop it coarsely and add it towards the last five minutes of cooking, which preserves those priceless volatile oils. Try parsley in scrambled eggs, spaghetti sauce, mac and cheese, mashed potatoes, homemade soup, guacamole, sour cream, salsa, you name it. You will be amazed how the green, herby, springtime flavor of parsley will come through in your food. By the end of the week, you will be headed back to the store for more.
Next, expand your horizon and try cilantro. The leaves are a little finer, and cilantro doesn't last quite as long. As with parsley, you can use the stems, leaves, everything. Add cilantro to omelets, quiches, fish dishes, tacos, even my favorite - mango salad. Try pairing cilantro with lime for a Latin or Asian taste.
Once you have mastered parsley and cilantro, the herb garden is your oyster. Try fresh basil, which can be used in both sweet and savory dishes. If you want a variety, the fresh herb package from the store labeled "poultry seasoning" will have sprigs of three or four herbs to expand your repertoire.
Once you are using all these fresh herbs in your cooking, the next step is to grow your own. You can harvest and enjoy great handfuls of fresh sage, thyme, parsley, lovage and tarragon from your garden or deck.
Parsley challenge new potatoes

1 pound new red or yellow potatoes
1 tablespoon butter or oil
3 cloves garlic, minced
1 cup low-salt or homemade broth
1 cup chopped parsley
Put potatoes in microwave-safe bowl, cover with plastic wrap and microwave until tender, about 15-20 minutes. Heat oil or butter in a large skillet over medium heat. Sauté garlic for 5 minutes or until tender. Add broth and 3/4 cup of the parsley, mix well. Toss with potatoes and sprinkle with remaining parsley. Serves 4-6.
Nutritional information (per serving):
Calories: 117, Carbohydrates: 20 grams, Protein: 3 grams, Sodium: 70 milligrams
Katy's mango salad
2 large mangoes, diced
2 red peppers, diced
Juice from 2 limes (4 tablespoons of lime juice)
2 tablespoons honey
¼ cup fresh cilantro, chopped
½ jalapeno pepper, seeded and finely chopped (or ¼ teaspoon cayenne pepper)
Optional: jicama, pomegranate, cucumber, cranberries
Toss all the items together and chill in the fridge for 1 hour. This salad is delicious on its own or as a fruit sauce for grilled meats and seafood. Serves 4.
Nutritional information (per serving):
Calories: 120, Potassium: 320 milligrams, Sodium: 4 milligrams
[Katy G. Wilkens is a registered dietitian and department head at Northwest Kidney Centers. The National Kidney Foundation Council on Renal Nutrition has honored her with its highest awards: the Susan Knapp Excellence in Education Award and the Joel D. Kopple Award for significant contributions in renal nutrition. See more recipes at www.nwkidney.org.]