The Jetsons would feel at home in this garden!
Travels with Deb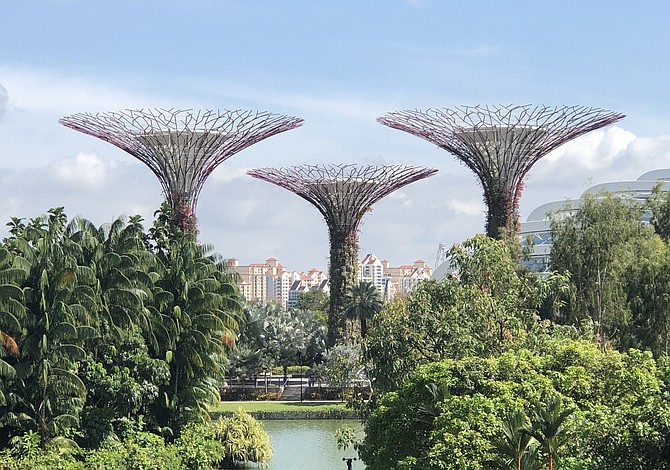 You might think you've stepped onto another planet at Singapore's Gardens by the Bay. The park, a well-known attraction in the city, takes the traditional conservatory concept up more than just a notch or two. With its Supertrees, suspended walkway and ginormous domed glass greenhouses, the place is a horticulture wonderland with a futuristic vibe.
The Gardens is a must-see destination for travelers to Singapore. It's a showpiece of innovation and artistry that presents the plant kingdom in a fresh, new way. This "green jewel" simultaneously entertains while educates visitors about plants from around the world, ranging from species in cool, temperate climates to those in tropical forests and habitats.
Comprised of two distinct waterfront sectors, Bay South and Bay East (with a third, Bay Central, to be developed), the Gardens offers a pocket of tranquility in the middle of one of Southeast Asia's most bustling cities. Bay South, the largest of the gardens, opened in 2012, and is home to the attraction's exciting wow factors. Bay East, on the other hand, is a vast waterfront green space, perfect for picnicking and relaxation.
It's hard not to miss the iconic Supertrees that dominate Bay South and make it look like something out of a sci-fi comic book. These colossal vertical gardens are between 82 and 164 feet tall, averaging the height of a sixteen-story building. There are eighteen Supertrees in total, twelve of which are found at Supertree Grove. They're comprised of nearly 163,000 plants and more than 200 species and varieties of bromeliads, orchids, ferns and tropical flowering climbers. Each tree has four parts: a reinforcement concrete core, trunk, planting panels for the living skin and canopy. The canopies are designed to provide shade in the day. Later at night, they come alive with a dazzling display of lights and sounds in a spectacular show set to music.
You'll be mesmerized as you stand in awe of these giants. For another perspective, head up to the OCBC Skyway and stroll along the walkway connecting two of the marvels. Sitting 72 feet above ground, this aerial path gives visitors a panoramic vista of the Gardens and Marina Bay skyline.
The domes are also prominent features of Bay South. The Flower Dome, which spans nearly three acres, has the distinction of being the largest glass greenhouse in the world. Thousands of glass panels of different shapes and sizes cover the surface area of the dome in colossal jigsaw puzzle fashion. Inside this Eden of eternal spring, there's a changing showcase of flowers and plants. Exotic species from five continents, including South Africa, South America, Australia, Europe and North America, are displayed in nine different gardens. Wander among the Baobabs and Ghost Trees, stroll through the olive garden, admire the beautiful Italian cypresses and venture into the desert for a look at the extensive variety of succulents. And know that you'll be able to enjoy this multi-sensory experience in comfortable, cool temps, courtesy of a system that uses chilled water pipes within the ground slabs.