Bedlam Over Booze: Seattle Prohibition: Bootleggers, Rumrunners & Graft in the Queen City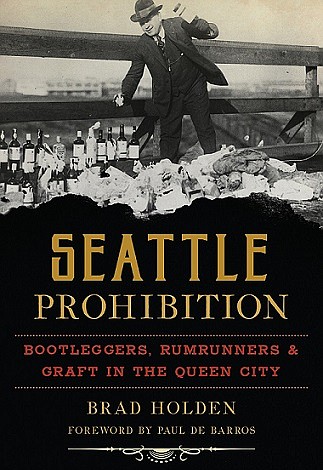 Prohibition consumed Seattle, igniting a war that lasted nearly twenty years and played out in the streets, waterways and even town hall.
Local historian, Brad Holden, became interested in Seattle's prohibition era when he was at a local estate sale and found the remnants of an old moonshining still. "I was intrigued and really excited about the find," says Holden, who describes himself as an urban archaeologist. His hobby is finding historical artifacts at estate sales, flea markets and old attics. "I started looking around and finding family documents that told the story… the original owner of the house had been making moonshine during prohibition. He was caught and sent to prison."
Holden became instantly fascinated by the topic of prohibition, moonshiners and rumrunners. "I started reading every book I could get my hands on," he says. "Over time, I realized that there was a much bigger story about local prohibition history that had never been told before." He knew a book was in his future.
Holden has found many fascinating stories during his research. "One that stands out is that I helped uncover the history behind a notorious Seattle speakeasy that was only recently uncovered." The Louisa Hotel, an old hotel in Seattle's International District, was being renovated and the crew uncovered a stairwell from the street to a big open room painted with murals. The find mystified the new owner and intrigued Holden, who read a short blurb about it on a local newsfeed.
"A couple of weeks later, I was at the National Archives in Seattle, grabbing random boxes looking for research material for my book. In that first box, I saw newspaper articles and arrest records from Federal agents who raided a notorious local speakeasy in 1931 and shut it down. It was called the Bucket of Blood," reports Holden. "I had heard of this place before and realized that the room they found at the Louisa Hotel was the same place. I was able to share my research findings with the owner of the building."
Holden says the official name of the speakeasy at the Louisa Hotel was the Hong Kong Chinese Society, but because of the giant tins of dark beer they served, the locals started calling it the Bucket of Blood. "During the raid in 1931, police made over 100 arrests, including a lot of high society patrons that were put in jail," Holden reveals. "The speakeasy was closed down after the raid, and its history forgotten until the renovation."
Holden has made many fascinating discoveries during his research. He showcases these historical finds on his Instagram page, www. instagram.com/seattle_artifacts, as well as hosting exhibits at local venues, including the Edmonds Library and the Edmonds History Museum. Holden looks forward to holding more exhibits in the region.
50-year old Holden, who works fulltime with the federal government, also volunteers his time at the Edmonds Historical Museum.
Seattle Prohibition: Bootleggers, Rumrunners & Graft in the Queen City is Holden's first published book, but he enjoyed researching and writing it so much that he's already started thinking about his second.
MORE INFORMATION
Brad Holden will offer readings and book signings of his new book, Seattle Prohibition: Bootleggers, Rumrunners & Graft in the Queen City. May readings include:
• May 9 at 7pm, Third Place Books in Lake Forest Park (206-366-3333)
• May 16 at 5pm, Edmonds Book Shop (425-775-2789)
• May 23 at 7pm, Third Place Books at Seward Park (206-474- 2200)
• May 18 at noon, Island Books on Mercer Island (206-232-6920)
Brad Holden's book, Seattle Prohibition: Bootleggers, Rumrunners & Graft in the Queen City can be found at Amazon.com, Barnes & Noble, and your favorite local bookstore.