Zesty sauces from around the world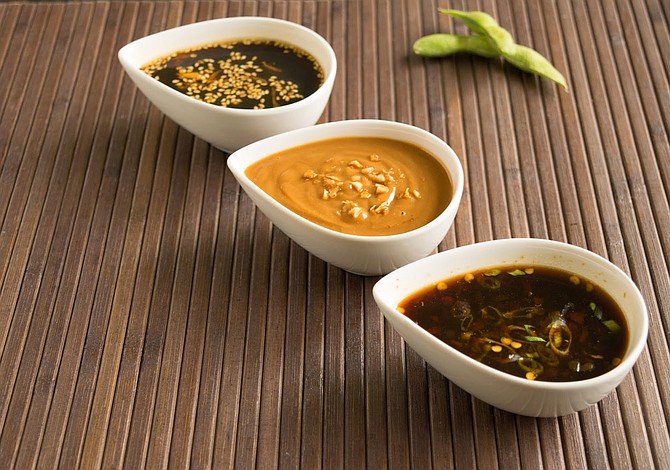 I don't use salt or salty ingredients because they are hard on everyone's blood pressure, kidneys and heart. But I'm not willing to give up the zip of tasty food! The secret to cooking without salt is to pump up the other four flavors we taste: sweet, sour, bitter and umami. If you do this, your food is so flavorful you don't need or miss salt.
Try these zesty low-sodium sauces from around the world. You can make all of them ahead and freeze in small containers to use later.
Mexican cilantro sauce
Great drizzled over a taco salad or tofu tacos.
2 cups cilantro, loosely packed
3 cloves garlic
¼ cup bottled lime or lemon juice
¼ cup olive oil
1/8 teaspoon cayenne pepper
Combine all in food processor and pulverize. Serve fresh for amazing flavor. You can also divide and freeze in mini muffin tins or ice cube trays, then pop out and store in a bag and return to freezer. Serving is 2 tablespoons.
Nutritional information (per serving):
Calories: 92, Carbohydrates: 2 grams, Protein: 0 grams, Sodium: 3 milligrams
Japanese low-sodium umami sauce
Try this as a low-salt alternative to soy sauce.
2 teaspoons unseasoned rice vinegar
1 teaspoon sesame oil
1 teaspoon molasses
1 teaspoon brown sugar
½ teaspoon salt-free garlic powder
Pinch of red pepper flakes
2 teaspoons orange marmalade, plum jam or honey
¾ cup water
Mix all ingredients until combined. Serving is 1 tablespoon.
Nutritional information (per serving):
Calories: 113, Carbohydrates: 19 grams, Protein: 0 grams, Sodium: 11 milligrams
Thai peanut sauce
Great tossed with rice noodles for a quick pad thai dinner.
1/4 cup honey
1/4 cup smooth peanut butter
2 tablespoons crunchy peanut butter (optional)
2 tablespoons low sodium soy sauce
2 tablespoons unseasoned rice vinegar
2 tablespoons vegetable or peanut oil
1 tablespoon sesame oil
2 teaspoons minced fresh garlic
1 tablespoon minced fresh ginger root
2 teaspoons crushed red pepper flakes (optional)
Juice of 1 fresh lemon
In a small bowl, combine all ingredients. Adjust garlic, ginger, red pepper flakes as desired. Serving is 2 tablespoons.

Nutritional information (per serving):
Calories: 176, Carbohydrates: 15 grams, Protein: 3 grams, Sodium: 180 milligrams, Phosphorus: 45 milligrams, Potassium: 106 milligrams
[Katy G. Wilkens is a registered dietitian and department head at Northwest Kidney Centers. The National Kidney Foundation Council on Renal Nutrition has honored her with its highest awards: the Susan Knapp Excellence in Education Award and the Joel D. Kopple Award for significant contributions in renal nutrition. See more recipes at www.nwkidney.org.]