Michael Franti & Ziggy Marley Rock Out Chateau Ste Michelle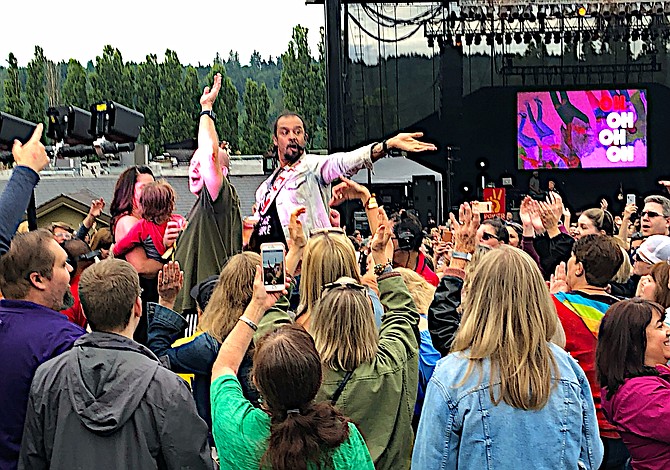 Friday and Saturday nights Michael Franti & Spearhead and Ziggy Marley played sold out outdoor shows at Chateau Ste Michelle. I attended Saturday, and, was like so many, surprised to learn that on this tour when they play a venue for two nights, they switch who goes first. In other words, Ziggy Marley is not opening for Michael Franti & Spearhead. As one of their road people told me, they are co-headliners.
It was no big deal for me as we were in our seats at precisely 6:30 when Franti & Spearhead unexpectedly took the stage. However, the line of people waiting to pass through security were probably quite surprised to hear Franti's voice begin his ninety-minute, highly participatory set. This was predominately a crowd of Franti fans, and they were not disappointed as he and his band played full energy with great big screen visuals accompanying many of his songs.
Barefoot Franti (he never wears shoes) also made his way through the crowd singing - twice, ending up performing on small platforms surrounded by audience members near the rear of the venue. Although this behavior was clearly a security and logistical nightmare, it made the show feel much more inclusive, intimate and participatory. This is a quality that Franti brings to all his performances. He steps off stage acknowledging that he is simply one of the people, and audiences respond in kind.
I've seen many of his shows over the past years, and the entire performance always has everyone standing and dancing be they eight or eighty, and Saturday night's family friendly show was no exception. If you wanted to see the stage, you had to stand and you probably could not help yourself when the music moved you. In addition, every so often Franti would command the crowd, "I want to see you jumping," and most everyone would follow his lead.
At the conclusion of his set Franti & Spearhead yielded the stage to Ziggy Marley and his band, which performed a more staid yet highly charged set. And most of the audience remained standing and dancing.
As always the staff of Chateau Ste Michelle provided the perfect outdoor venue for an amazing evening. And with the weather on the cool (but dry) side, it was another excellent Chateau Ste Michelle concert evening.
Their Summer Concert Series continues though September 20 and includes Lyle Lovett, Rodrigo Y Gabriela, Chicago, Pink Martini, Earth, Wind & Fire, Mark Knoffler, ZZ Top and Amos Lee. A summer show at Chateau Ste Michelle is a quintessential Seattle area (it is in Woodinville) summer experience and should not be missed.
L. Steven Sieden is a writer, event producer and global futurist. His books include "Buckminster Fuller's Universe" and "A Fuller View, Buckminster Fuller's Vision of Hope and Abundance For All". He has been reviewing Seattle area theatre and live entertainment since 2012.