Winthrop Washington
Take a step back into the Old West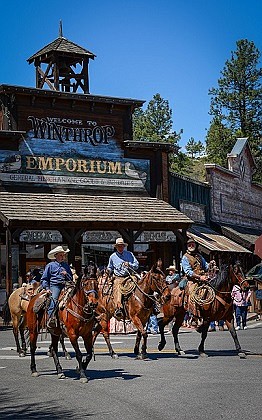 This article is sponsored by Winthrop Washington
Located in the North Cascades Scenic Byway in Washington's magnificent Methow Valley, Winthrop is an old west town with wooden boardwalks and western charm.
Winthrop, the spectacular vacation destination with a Western flair, is known for its world famous winter activities. But Winthrop is a year-round destination and whenever you come, there will be something fun to do!
Winthrop offers something for everyone. Bordered by the pristine forests and stunning views of the North Cascades National Park, the outdoor wonderland of Winthrop is also near Twisp, the arts and cultural center of the Methow Valley.
Summer visitors flock to Winthrop for countless activities including hiking, mountain biking, road cycling, paddle boarding, river rafting, rock climbing, horseback riding, swimming, fishing, golfing, sightseeing, outdoor concerts, relaxation and epicurean experiences from mouth-watering bakeries, bars and pubs, to four-star dining rooms. Visitors come to camp or stay in a romantic cabin, a charming cottage or an elegant resort.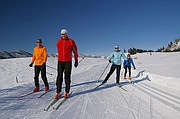 Winter visitors know that Winthrop is home to the nation's largest cross-country skiing location, with over 120 miles of groomed trails, and the area boasts countless other winter activities like alpine skiing, an outdoor ice rink, snowshoeing, fatbiking, sledding and snowmobiling.
Planning a visit this summer? Don't miss the Methow Valley Chamber Music Festival (June 20-29) for musical performances, local wines, beers and hors d'oeuvres – all framed by golden sunsets over the Cascade mountains. The Winthrop R&B Festival (July 19- 21) is packed full of national and regional entertainment for all ages. The festival includes onsite camping, food and craft vendors, portable showers and a beer garden. The Winthrop Vintage Wheels Show (September 7) is a unique opportunity to see iconic wheeled treasures up close. From restored cars to antique trailers and tractors, you'll see it all parade down main street. Don't forget your camera!
Fun Facts
In 1883 the lure of gold brought the first permanent white settlers.
Winthrop is home to the oldest legal saloon in Washington state.
Owen Wister wrote The Virginian, America's first western novel, after honeymooning in Winthrop.
Cattle drives, pack trains and the mystique of the old west are still part of the Methow Valley experience. Get ready to enjoy saloons, sunshine, festivals, rivers, snow, trails, hiking, biking and more!
See you soon!
For more information, visit www.winthropwashington.com or call 509-996-2125.