Seattle SuperSonics
This month marks the 40th anniversary of the Seattle SuperSonics' NBA championship in 1979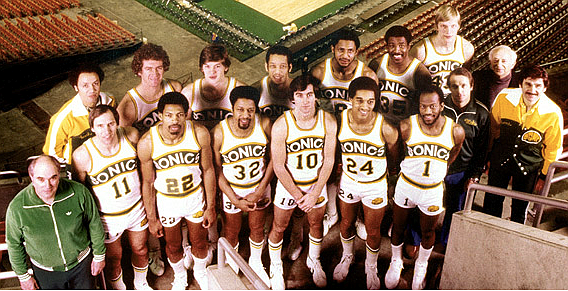 "Longtime Seattle natives remember where they were when the SuperSonics finished off the Washington Bullets in Game 5 of the 1979 NBA Finals as vividly as when Neil Armstrong walked on the moon," wrote Dan Johnson on Historylink.org. "Names like Lenny Wilkens, Spencer Haywood, Slick Watts, Gus Williams, Fred Brown, Jack Sikma and Gary Payton evoke passionate responses from fans who followed the team since its first game in 1967."
Johnson credits Supersonics' coach Lenny Wilkens with being instrumental in the Sonics' championship run. Wilkens first started with the team as a player.
According to Johnson, in 1968 the Sonics' biggest star was the newly arrived Lenny Wilkens, who had come from the St. Louis Hawks in exchange for Seattle's original All-Star, Hazzard. "Wilkens made three consecutive All- Star appearances from 1969-71, earning All-Star Game MVP honors in 1971," wrote Johnson.
"Starting with the 1969-1970 season, Wilkens served as the SuperSonics' player-coach, and thanks in part to his own excellent play on the court, he coached the team to its first winning season (47 wins, 35 losses) in 1971-1972. In a stunning move that infuriated the team's fans, Wilkens was traded in the offseason to Cleveland for guard Butch Beard, who played one unspectacular season for Seattle."
But Wilkens came back as coach during the 1977-78 season, replacing NBA legend Bill Russell, "arguably the greatest center of all time," who had come on board during the summer of 1973. With Wilken's arrival, the Sonics began their turnaround and their long march to the NBA championship.
Johnson describes the fateful day when the Sonics clinched the championship: "On June 1, 1979, the Seattle SuperSonics beat the Washington Bullets 97-93 in Washington, D.C., to win the team's first (and only) National Basketball Association Championship. Guard
Gus Williams scores 23 points in the decisive contest while center Jack Sikma grabs 17 rebounds. The win gives Seattle a 4-1 series victory and avenges the SuperSonics' loss to the Bullets in the 1977-1978 NBA Finals.
"This Sonics team was especially remarkable because it boasted no single superstar. Coach Lenny Wilkens would eventually become the NBA's all-time winningest coach; guard Dennis Johnson went on to greater accolades with the Boston Celtics and center Jack Sikma was an All-Star, but there was no Magic Johnson/Michael Jordan-type player on the team. Known for stingy defense and excellent outside shooting, this team was clearly greater than the sum of its parts," wrote Johnson.
"Winning the trophy capped a stellar year for the Supes. Wilkens continued to work his sideline magic, while a well-balanced scoring attack, led by Williams' 19.2 points per game, kept opponents off balance. Adding to the Sonics' strength was their league-best defense, thanks to Williams' 2.08 steals per contest and Sikma's stellar rebounding. Seattle rolled to its first 50- win season (52-30) in franchise history and its first Pacific Division title," added Johnson.
The Seattle Supersonics' 41-year run in Seattle came to a controversial end in 2008 when the team's new owner, Clay Bennett, moved the team to Oklahoma City.