D-Day 75th Anniversary
Local Navy WWII Veteran, Seaman Claire Voss, remembers D-Day and more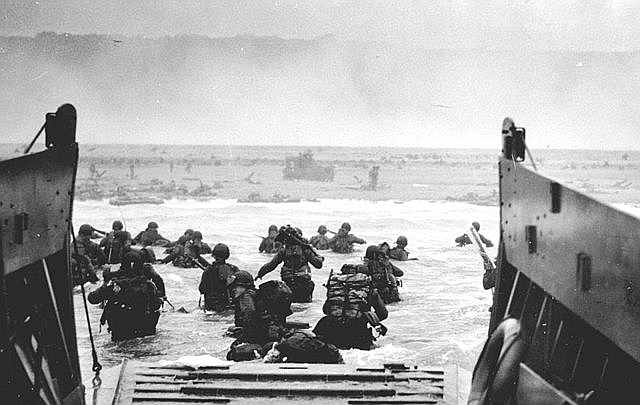 On the beach at St. Laurent-sur-mer in the Normandy region of France, a metal monument protrudes from the sands.
The monument, Les Braves, with its spires resembling sails, reflects the sky and water. To many beach visitors, it signifies hope. To others, it's a reminder of a sacrifice made 75 years ago.
On June 6, 1944, Normandy's Omaha Beach became the site of an intense, deadly day as brave American soldiers disembarked from the dropped front of Higgins' boats to an onslaught of fire power from German troops in the hills above. Ninety-four-year-old WWII Navy veteran, Claire Voss, vividly remembers this June day.
"We were too busy to be scared. None of it scared me," said Voss.
Seaman Voss was stationed on a Landing Ship Tank (LST), which became a crucial part of this massive operation known as Project Overlord.
Following two to three months of training in England, he said, "On June 5, around 6:30pm, our convoy left for France from Plymouth Harbor, England."
The mammoth, slow-moving ship carried tanks, vehicles, cargo and troops to unload on the beaches of Normandy. The crew's mission was to support U.S. troops in their goal of defeating the Germans. Voss served as machinist mate in the engine room of LST 502.
Voss already knew how to operate a diesel engine.
"Growing up in Grand Rapids, Michigan, this was General Motors country," he said.
He describes the evening while crossing the English Channel, seeing thousands of planes in the sky headed to bomb the Normandy coast and others to deposit paratroopers inland.
"There were so many bombers you could barely see the sun when it came up. It looked like a whole bunch of flies."
Voss also describes a scene of battleships, cruisers, destroyers, mine sweepers and over 170 LSTs in the English Channel. . . destination Normandy.
"There were so many ships, you could hardly move."
At 6:30pm on June 6th, Voss' LST unloaded small boats carrying soldiers to Omaha Beach. This was the second part of the first wave to arrive.
He noted, "It was the hardest beach to land on as it had a cliff above the beach."
From German bunkers perched over Omaha Beach, cannons and machine guns fired rounds continuously on American soldiers. "We got men off but we couldn't offload our heavy equipment as the beach was not yet secured."
Voss' LST with its Army-Navy surgical team and corpsmen took on casualties returning from the beach.
"Our bunks became hospital beds for the wounded so we had to sleep any place we could," said Voss. "We slept soundly and quickly when tired."
When not in the engine room, Voss asked a medic, "Anything I can do?" He stepped aside from his job as machinist mate to help medics by mixing dried plasma with purified water. On June 7, his LST finally off-loaded their cargo of heavy equipment onto Omaha Beach.
The ship's crew boarded 400 casualties that day, both Americans and Germans. Being of Dutch descent, Voss also understood German. He became the ship's translator.