Seattle Gilbert & Sullivan Society's "Princess Ida" Sparkles & Shines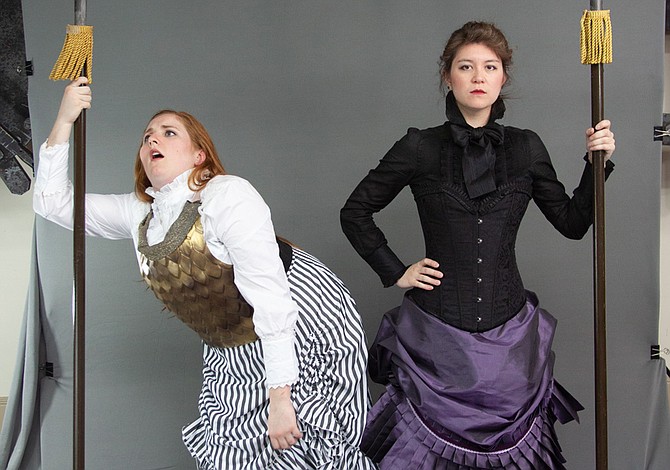 Seattle's Gilbert & Sullivan Society latest production Princess Ida once again proves that a dedicated group of passionate people can produce a masterful entertaining show. Since 1954, the Gilbert & Sullivan Society has been bringing a top quality, fully staged productions to Seattle every year.
Although this year's show Princess Ida is one of the lesser known of Gilbert and Sullivan's works, it is filled with witty banter, excellent singing and dancing as well as costumes that are a delight to see. Particularly outstanding are Callie Williams as Melissa and Mark Rabe as King Gapma. Both these actors have an outstanding sense of comic timing that stands out in the staid nature of the courtly appearances by other actors.
One naturally expects this of Rabe to be funny, as he is seen regularly in Seattle as the piano player and comic straight man for Groucho Marx in Frank Ferrante's An Evening With Groucho. But Williams also have the gift of comic acting, and the part of Melissa allows her to shine as such.
Here's how the Gilbert & Sullivan Society describes the show:
The brilliant, assertive Princess Ida has sequestered herself and her court in the Castle Adamant, dedicating themselves to the study of the higher arts and absolutely, utterly forswearing the company of men. And the men - including her promised fiancé, Prince Hilarion - are not taking it well.

What follows is a hilarious adventure as The Prince and his friends try to win back their betrothed before war breaks out between the antiquated men of the kingdom and the warrior maidens of Castle Adamant. Surprises, twists, and turns abound as disguises are revealed, hearts are laid bare, and magic is unleashed at Castle Adamant!
All in all, Princess Ida is a great couple hours of rousing entertainment that only appears for two weekends. If you miss this year's Gilbert & Sullivan Society offering, next year's show - the always popular Pirates of Penzance - will take place the weekends of July 10th and 26th, 2020.
Princess Ida continues at the Seattle Rep's Bagley Wright Theatre through July 28.
L. Steven Sieden is a writer, event producer and global futurist. His books include "Buckminster Fuller's Universe" and "A Fuller View, Buckminster Fuller's Vision of Hope and Abundance For All". He has been reviewing Seattle area theatre and live entertainment since 2012.