Can Can Cabaret's "The Legend of El Dorado" Is Just Plain Adult Fun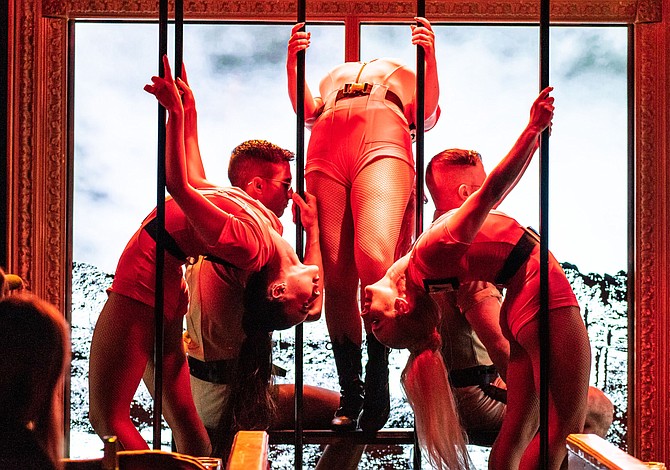 With a cast of three gorgeous women known as El Dorado - a scantily clad, acrobatic girl gang is running from "the law" - Can Can's latest production The Legend of El Dorado promises a fun evening and fully delivers. The law is played by two hunky guys who, like the women, wear a minimal amount of very tight clothing.
All this takes place in the intimacy of the Can Can, a Pike Place site far more interesting the nearby original Starbucks. Can Can is small, so the show sometimes takes place inches from audience members. And spectators often become part of the show as the two men "pursue" the women through dance, song, and some amazing gymnastics.
Here's how Can Can describes the show:
"El Dorado, the infamous girl gang has just broken out of jail and is running from the law. When these three women made the pact of solidarity no one ever expected that they would soon become the most legendary outlaws in the country. The gang of horseback riding, man-eating women were a fearsome trio of renegades redefining what it meant to be a woman on their own terms with no compromise. How El Dorado found themselves out running the law, robbing corner stores at gunpoint, and seducing their unsuspecting victims while in high heels, fishnets, and nail polish are things legends are made of. "
If you've never seen pantless women in chaps dancing on a railing only a few inches wide next to where you're having a drink or eating a meal, Can Can's The Legend of Eldorado is the place to go. And, if you're lucky (or perhaps unlucky), you'll end up being acknowledged by the cast and the entire audience.
The cast likes to find people celebrating … anything. The night I attended the early show, they focused on a couple who openly admitted to being on a first date.
And Can Can is a great place for a date. The show is extremely entertaining, the venue is intimate, everyone seems to be having a great time and the food is great.
Just remember to bring cash as the actors do pass the hat for tips at the end of the show. And after watching these five performers literally work their butts off, audience members will want to show their appreciation.
The Legend of El Dorado continues at the Can Can through September 29th.
L. Steven Sieden is a writer, event producer and global futurist. His books include "Buckminster Fuller's Universe" and "A Fuller View, Buckminster Fuller's Vision of Hope and Abundance For All". He has been reviewing Seattle area theatre and live entertainment since 2012.