Berry Good Desserts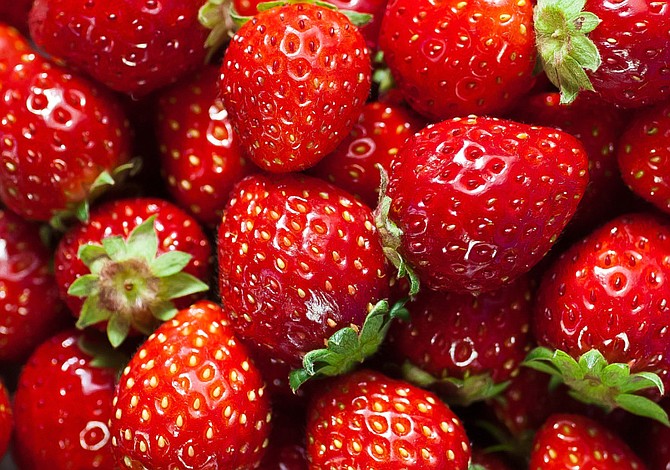 The strawberry plants in my garden are overflowing with fruit. I recently made 30 half-pints of homemade jam. Now it's time to move on to desserts!
Fresh berries are good sources of vitamin C, natural antioxidants, and fiber. Using fruits to satisfy your sweet tooth is also a great way to cut down on the salt and sugars you find in baked desserts. Your heart and kidneys will thank you.
If you don't have room to grow berries on your own, remember the Pacific Northwest is overflowing with places to find fresh, local berries. Just take a drive up near Bellingham, and see miles of raspberries; south of there near Marysville are hundreds of acres of strawberry fields. Try checking out your local farmers' markets, or even your grocery store. You can easily gather plenty of raw materials for a plate full of berry good desserts!
Strawberry Heaven
1 eight-ounce package low-fat cream cheese, softened
2 tablespoons brown sugar
¼ cup brown sugar
1 cup low-fat sour cream
1 quart fresh strawberries
In a bowl, beat cream cheese with electric mixer until light and fluffy. Add sour cream and 2 tablespoons brown sugar and beat until smooth. Reserve one berry for garnish, halve remaining berries and arrange in bottom of a shallow 8-inch round broiler-proof dish. Spoon cream mixture over berries and sprinkle with the remaining ¼ cup brown sugar. Broil 4-5 inches from heat for 1-2 minutes or until sugar turns golden brown. Slice reserved berry, arrange on top of dessert. Serve immediately. Makes 8 servings.
Nutrition information: Calories: 162, Carbohydrates: 20 g, Protein: 4 g, Sodium: 159 mg
Strawberry Hot Milk Cake
This makes the best strawberry shortcake in the world. You can also bake it as cupcakes and cut them in half to stuff with juicy red berries.
3 cups flour
2 teaspoons baking powder
2 teaspoons ground cinnamon
½ teaspoon ginger
1 cup unsalted butter, cut into small pieces
1 3/4 cups sugar
3 large eggs
1 teaspoon vanilla
1 ¼ cups whole milk
Heat oven to 350 degrees. Spray or oil 9 x 13-inch glass cake pan. For cupcakes, use muffin tin and liners. Line bottom of cake pan with wax paper or parchment. Heat milk in a Pyrex cup in microwave for about 2 minutes, until quite hot. Set in bowl of cool water and let cool to lukewarm. Meanwhile, sift flours, baking powder and spices into bowl. Mix butter and sugar with a mixer on medium speed, 2- 3 minutes. Beat in eggs, 1 at a time, then vanilla. Reduce speed to low. Add flour mixture in 2 parts, alternating with cooled milk. Pour into cake pan. Bake cake for about 35-40 minutes; cupcakes 20-25 minutes, until cake bounces back when touched in the middle, or toothpick comes out clean when inserted. Let cool about 10 minutes then turn out from pan. Let cool completely. Cut in squares, dust with powdered sugar, serve with fresh berries and whipped cream.
Nutrition info: Calories: 200, Carbohydrates: 28 g, Protein: 3 g, Fat: 9 g, Sodium: 61 mg
The recipes in this column are meant for people who want to keep their kidney health by following a low sodium diet. These recipes can also be used by people who have stage 1-3 kidney disease, but they may be too high in phosphorus and potassium for some people with stage 4-5. In most cases, except for dialysis patients, a diet high in potassium is thought to help lower high blood pressure. These recipes are not intended for people on dialysis without the supervision of a registered dietitian.
[Katy G. Wilkens is a registered dietitian and department head at Northwest Kidney Centers. The National Kidney Foundation Council on Renal Nutrition has honored her with its highest awards: the Susan Knapp Excellence in Education Award and the Joel D. Kopple Award for significant contributions in renal nutrition. See more recipes at www.nwkidney.org.]