NW Best Place to Retire Annual 'Round-Up'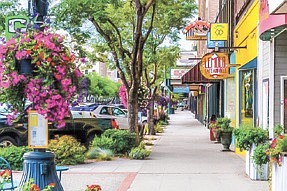 "We saw the house in Burien and jumped on it. It's probably the biggest home we've ever lived in and has the biggest yard. It's such a comfortable spot just off Shorewood on the Sound. We love the trees, the neighborhood, the good quality of life. I thought I'd feel more homesick and that I might find the rain and the cool weather daunting, but it didn't take long to get used to it. We really love it here."
Bruce added, "The only downside that we've encountered is how close we are to the airport. I became active in the local citizens group Quiet the Skies literally the same month that SeaTac diverted flights over Burien. We get noise and pollution, but we have no intention of moving. I've asked myself—Would I still move here knowing about the airport situation? And the answer is, Yes!"
Factoids:
• If you don't want to live in Washington's coldest or warmest places, avoid Winthrop, which records the coldest temps and Walla Walla, the hottest.
• The U.S. Census Bureau tells us that most people moving TO Washington State are coming from California and Oregon, followed by Texas, Colorado and Arizona. Most people moving FROM Washington State are moving to California, Oregon, Texas, Arizona and Idaho – but more people are moving TO Washington from these states than are moving away.
• Gig Harbor has been named a top retirement destination many times over, but the picturesque town recently lost its senior center! (A senior center is a necessary requirement to be a 'Best Place to Retire.') Efforts are underway to find a temporary location while the Greater Gig Harbor Foundation works to find a long-term solution, according to Betty Lilienthall, the organization's vice president.
• HireAHelper.com suggests that when looking at the total tax burden by surveying mean wage data, state income taxes, state and local sales taxes, and property taxes, Washington has the 5th lowest 'true tax burden' of any state.
• Conversely, WalletHub said Washington is the worst state to be poor in from a tax perspective
.