Happy When I'm Hiking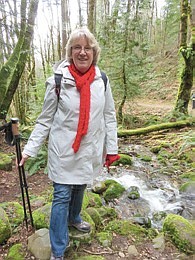 Note: "I'm Happy When I'm Hiking" is an old English hiking song, author unknown
Sandra Nachlinger is the author of two novels, short stories, essays and articles. She enjoys sewing, quilting, lunching, writing, reading, spending time with her granddaughter and hiking in the beautiful Pacific Northwest. She blogs at SandraNachlinger.blogspot.com
Ride Public Transit to Trailheads

Trailhead Direct is a program sponsored by Metro, King County Parks, REI and other partners. "We're bringing back Trailhead Direct with more routes to more trails in more communities," said Dow Constantine, King County Executive. This year's program started April 20 and runs weekends and some holidays through October 27.
The Cougar Mountain trip starts in Tukwila with stops in Renton and Issaquah on the way to the trailhead. The Issaquah Alps trip (with four trailhead options) starts at the Mount Baker Transit Center on Rainier Avenue with additional stops in Bellevue and Issaquah. The Mailbox Peak trip starts at the Issaquah Transit Center with an additional stop in North Bend. The Mount Si, Mount Teneriffe and Little Si trips start at East John Street in Seattle with additional stops on First Hill, downtown Seattle, Eastgate in Bellevue and North Bend.
For more information, visit trailheaddirect.org or call 206-553-3000.