Happy When I'm Hiking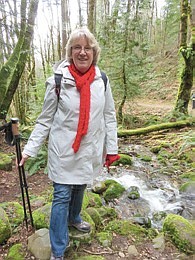 ...by Sandra R. Nachlinger
I'm happy when I'm hiking, pack upon my back.
I sang those lyrics as a Girl Scout, but only recently did I really take them to heart. Last spring, I picked up a brochure from the Auburn Senior Activity Center and studied the list of hikes and walks for the coming months. Descriptions included each trail's location and length. Walks were described as shorter than three miles; hikes were longer and were rated as to difficulty. For a fee of ten dollars or less per outing, I'd get transportation from the senior center to the trailhead and be guided along a path by an experienced leader. What a great (and safe) way for seniors to get out into nature. As a newbie, I decided a walk would be a cautious start and a good way to determine if I would be physically able to do it. I signed up.
On a breezy March morning, I stashed a PB&J sandwich and bottled water in my decades-old daypack, laced up my sneakers and boarded the senior center van. I was apprehensive but determined. The group assured me that I'd be able to keep up with their pace. We chatted all the way to Marymoor Park on Lake Sammamish. The outing along the paved path proved to be an exhilarating opportunity to stretch my legs and increase my heart rate. I had a great time. I registered for more walks and added a few tame hikes, too.
It didn't take long, however, for me to realize I was poorly equipped. Almost every week, conversations included assessments of gear. One hiker demonstrated new trekking poles that could be collapsed until they fit inside a backpack. I bought my "sticks" after struggling up a steep slope at Tolmie State Park. Another walker praised the waterproof qualities of a lightweight jacket. I discovered the benefits of rain gear on the boardwalks of Nisqually National Wildlife Refuge during a relentless downpour. Sturdy, waterproof hiking boots rounded out the ensemble, after a stumble on rocks at Little Si left me with mud coating my rear. The more I've walked and hiked on those low-cost outings, the more gear I've accumulated.
Despite these costs, are my hikes and walks a bargain? I think so. When my husband raises his eyebrows over my latest splurge, I remind him it's money well spent, especially when compared to the cost of medical care for "sitting disease." Besides, having the right gear makes the outings more comfortable and more fun.
"Whatever makes you happy," my hubby says.
Hiking and walking do give me joy: the jaw-dropping vista of Mount Rainier filling the horizon on the Naches Peak Loop Trail, the roar of water cascading down Twin Falls on the Snoqualmie River, the snow-capped peaks at Olympic National Park. All that beauty is part of me now. I am stronger, both physically and mentally, as I stretch the limits of what I can achieve.
I plan to keep hiking and walking as long as I'm able. Now I finally have all the necessary gear, although…lately I've been hankering for a waterproof hat. It provides protection from the sun's harmful rays and comes in several attractive colors. Whether I buy the hat or not, I know I'll be as happy as the song promises, "Out in the open country, that's the place for me."