Ed Hume
Northwest Garden Guru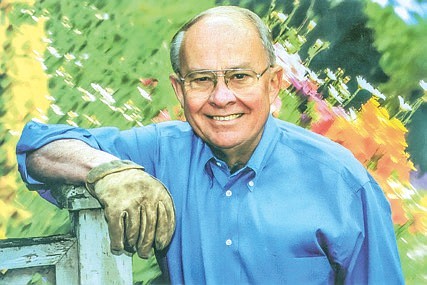 The couple married at Lynnwood's Lake Serene. Within two years they started their family (two boys—Jeffery and James) and then bought a house in Edmonds.
Because Ed was manager at Wights, he was often invited to make appearances on local television shows, like Bea Donavan's, Margaret the Merry Gardener and Gardener's Guide with Paul Brown. "Paul was assistant director at the Seattle arboretum," says Ed. "In 1965, he was diagnosed with cancer and since I had appeared so many times on the show, Paul asked me to take over the program." Ed's record-shattering run in television had begun.
"I started at KIRO, but in the '70s moved to KING. This was during the gas shortage. I was doing TV shows in Seattle and Portland, so we moved south to Lakewood to save on gas."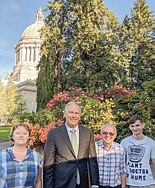 Ed's work on television became a family affair when, in 1988, Ed and his family started producing the program themselves. The same can be said of Ed Hume Seeds, the family-owned company that started in 1977.
"We were concerned about some of the varieties of plants that were highly recommended for this area but were not available in seeds—you couldn't find them in the racks," remembers Ed. "One of them was Early Girl, a popular tomato… We thought, that's not really fair." At the same time, the family was looking to boost their income. "We needed to make more money and we came up with the idea of producing the seeds that people wanted."
The company, Ed Hume Seeds, which offers seeds for short seasons and cool climates, is over 40 years old. "Jeff, our oldest son, now owns the company, along with three of our grandchildren," says Ed proudly. The company started in Kent but moved operations to the South Hill area of Puyallup when the family had an opportunity to purchase property there.
"Myrna and I live about five or ten minutes away. When we moved the seed company from Kent to Puyallup and the rest of the family all lived south of us, Myrna said, 'I'll never see the kids,' so we moved, too." Three times a week, Ed leads free tours of his gardens—located on the same property as the seed company headquarters.
In addition to the gardening show, readers may remember the Humes' popular Christmas segment, Deck the Halls. "It was during Boeing's downturn and people were struggling. There was a sign on Highway 99 that said, 'Will the last person leaving Seattle turn out the lights.' Myrna, who is very creative, came up with the idea of a program on how to make Christmas gifts and decorations with items around the house. The program ran for 10 years and was so popular that we were receiving about 35 to 40,000 requests for the information. But Myrna finally pulled the plug, saying 'I'm not really a television person.' "
Gardening has offered the Humes so many different opportunities. In addition to television, Ed had a weekly call-in radio show, has written for numerous local, regional and national publications, penned several books including his latest—Gardening with Ed Hume, created a seed company, became a well-known international speaker and traveled the world – all stemming from his love of gardening.