Colorado Springs offers endless adventure
Travels with Deb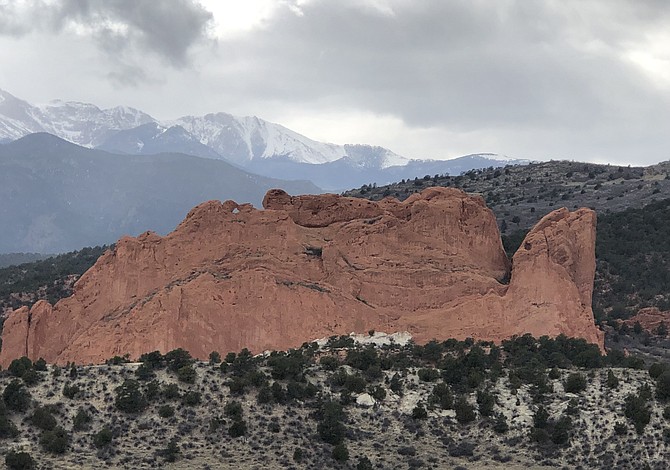 I'm a sucker for a room with a view. It doesn't matter if it's water, mountains or a cityscape. I'm not picky. But, some views deserve extra special recognition, like the one at The Garden of the Gods Resort and Club in Colorado Springs. All of the guest rooms and suites offer breathtaking vistas of snow-capped Pikes Peak and the Garden of the Gods landmark, with its dramatic red rock formations. The panorama is drool-worthy and you may not want to leave your spacious, well-appointed abode – ever!
Rest assured, though, it's not only the rooms that have a view at this property. The entire resort was designed with Mother Nature in mind. Wall-to-wall windows purposely showcase the spectacular scenery, whether you're dining in one of the restaurants, sipping on a libation in the lounge or breaking a sweat in the gym. Wherever you go, you'll have a front seat to this magnificent landscape.

The resort is amenity-rich, with swimming pools, hot tubs, a 27-hole golf course, outdoor and indoor tennis courts, fitness center and full-service spa and salon for the ultimate in pampering. The Strata Integrated Wellness Spa at The Garden of the Gods Resort and Club combines the best of Western and Eastern medical science, providing programs in nutrition, fitness, meditation, mindfulness and coaching, along with a menu of rejuvenating treatments ranging from the traditional to unique. .
I had the pleasure of experiencing a Royal Thai Poultice Massage, one of the spa's more unusual offerings. This heavenly treatment incorporated massage with an organic herbal poultice, Thai-style stretching and aromatherapy. The poultice helps promote various wellness aspects such as instilling calm, relieving muscular soreness and increasing revitalization. Specific herbs are wrapped in muslin or cotton and then steam-heated to allow the natural essential oils and aromas to be released. The therapist then rolls and presses the poultice on your body, creating a combination of deliciously soothing sensations aimed at loosening energy blockages and stimulating blood circulation.
Before and/or after your spa treatment, make sure to spend some time in the Himalayan salt inhalation chamber. The salt is purported to reduce stress and fatigue, decrease inflammation and improve respiration. With its salt block walls, glowing from within, and eighty degree heated air, it's a therapeutic sauna. I found the experience to be relaxing and meditative.
In the evening, treat yourself to a very special dinner in the resort's Grand View Dining Room. Culinary artistry combines with attentive service in a refined environment to create a meal you won't forget. Start off with the Butternut Squash Soup or Maine Lobster Bisque and a Kale Caesar Salad, or splurge on Pan Seared Foie Gras. Carnivores will salivate over the "Off the Butcher Block" entrees like Angus Filet Mignon and Prime NY Strip. And if you're a seafood aficionado, like me, you'll delight in such dishes as Alamosa Striped Bass Meuniere and Skuna Bay Salmon. I was also tempted to try the vegetarian entree, Curried Roasted Cauliflower Steak with Organic Coriander Yogurt, which sounded delicious. If you still have room for dessert, indulge in the Peach Shortcake or Coconut Passionfruit Entremet. Then waddle back to your room.