High-fiber bran recipes to get you going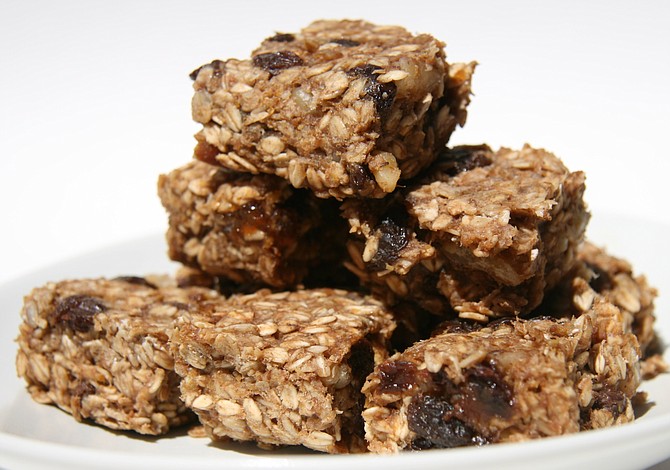 Most of us need more fiber in our diets, but getting it can be tricky. A good goal for most of us is 25 grams a day. Wheat bran is a great source of indigestible fiber, and it is really inexpensive. Its nutty flavor in breakfast bars or muffins can help you kick start the day. Bran waffles make a tasty weekend breakfast.
The following recipes incorporate oats too, a great soluble fiber source. They also contain fruits like apples, figs and dates, which add pectin, another soluble fiber, so your body will be powered up for the day.
Early bird breakfast bars
1 cup boiling water
1/3 cup chopped raisins, 6-8 fresh figs or 8 medium dates
1 cup oatmeal
½ cup whole wheat flour
1 ½ cups raw bran
1/3 cup oil
1/4 cup brown sugar
Preheat oven to 375 degrees. Pour boiling water over chopped raisins, figs or dates. Let stand 20 minutes, prepare the rest of the recipe. Combine dry ingredients in large mixing bowl.
Drain fruit, reserving 1 cup of drained liquid. Add a bit more water if it is not 1 cup. Pour fruit, one cup of liquid and oil into dry mixture and stir.
Spoon into greased 8-by-10 inch oblong pan or square 8-by-8 inch pan. Level with spatula and mark square cuttings with spatula. Bake for 20 minutes, until browned. Let sit 5 minutes, remove to rack when still warm. Refrigerate or freeze if keeping more than two days. Makes 24 squares.
Nutritional information (per two squares):
Calories: 122, Carbohydrates: 24 grams, Protein:2 grams, Fat: 8 grams, Dietary fiber: 4 grams, Sodium: trace
Apple bran muffins
2 cups whole wheat flour


½ cup oatmeal
1 ½ cups wheat bran
1 teaspoon baking soda (preferably low-sodium)

1 ½ teaspoon nutmeg
1 tablespoon orange rind, grated


1 cup chopped apple
½ cup raisins

½ cup chopped nuts or sunflower seeds

Juice of one orange
1 3/4 cups nonfat milk

1 beaten egg


½ cup molasses

2 tablespoons oil

Preheat oven to 350 degrees. Toss flour, oatmeal, bran, soda and nutmeg together with fork. Stir in orange rind, apples, raisins, and nuts or seeds. Combine juice of one orange with milk, then add egg, molasses and oil. Stir thoroughly. Stir liquid ingredients into dry ingredients with a few swift strokes. Pour into greased muffin tins, filling them to two-thirds full, and bake for 25 minutes. Makes 24 two-inch muffins.
Nutritional information (per muffin):
Calories 113, Carbohydrates: 20 grams, Protein: 4 grams, Dietary fiber: 3 grams, Fat: 3 grams, Sodium: 144 milligrams
Cheese bran waffles
1 cup white flour
1 cup whole wheat flour
2 tablespoons baking powder (preferably low-sodium)
¾ cup bran flakes
¾ cup shredded sharp cheddar cheese
2 eggs, separated
1 ½ cups nonfat milk
¼ cup oil
Combine flour, baking powder, bran flakes and cheese. Add egg yolks, milk and oil. Beat only until smooth. In a separate bowl, beat egg whites with mixer until stiff but not dry. Fold into batter. Bake in waffle iron. Makes 4-6 waffles. Serve with syrup or herbed honey butter.

Nutritional information (per waffle):
Calories: 458, Carbohydrates: 81 grams, Fat: 16 grams, Protein 16 grams, Dietary fiber: 5 grams, Sodium: 311 milligrams
[Katy G. Wilkens is a registered dietitian and department head at Northwest Kidney Centers. The National Kidney Foundation Council on Renal Nutrition has honored her with its highest awards: the Susan Knapp Excellence in Education Award and the Joel D. Kopple Award for significant contributions in renal nutrition. See more recipes at www.nwkidney.org.]