Nature takes center stage in southern Africa
Travels with Deb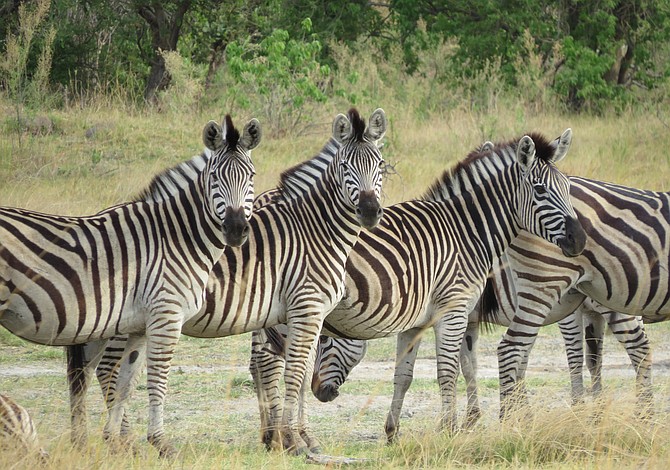 It was heart-warming to see how the adult females or cows took care of the calves. They were constantly vigilant, taking turns serving as lookouts at the watering hole and positioning themselves in the front and rear of the herd when it was on the move. And if they sensed any threat, they quickly formed a circle around the calves to protect them. There was also obvious respect for the elder matriarchs, shown by the deference of the others in regards to their leadership. It was a special treat to view this closely-knit society in action up close.
During the drive, I was only able to spot a few lions, as they were well-camouflaged. With their golden-colored coats, they easily blended into the surrounding vegetation. Their kin, the leopards, are also known for being inconspicuous. I felt very fortunate to see not one, but two of these handsome cats. The first appeared to be napping, while draped languidly over a branch, making it a challenge to separate the animal from the tree limb. The other, however, lay on the ground in all its photogenic glory, confident in its star power and stature.
I was also lucky to see a pack of African wild dogs sitting by the road. The wild dog is one of the world's most endangered mammals. This species' population has been rapidly declining due to hunting and loss of habitat. The pack our group observed numbered about ten. We took note of the dogs' mottled coats, which had blotches of different colors, alluding to the animal's Latin name meaning "painted dog." Though the pack was quiet, our guide told us not to be fooled by the dogs' sedentary-like behavior. These fierce hunters are always on high alert and can sprint up to forty-five mph in pursuit of prey.
Giraffes are fairly easy to locate for obvious reasons, as are zebras and the ubiquitous antelope that roam within the park, such as springbok, eland and impala. When you head to the river, though, wildlife sightings become even more frequent, as the water attracts an almost unbelievable density of game. In a boat, you'll experience the park and its creatures from another vantage point. Herds of buffalo, countless hippos and crocs share the river and its lush, grassy banks and islands with elephants, aquatic antelope, such as the near-threatened red lechwe, and a mind-boggling array of birds.
Buffalos and hippos are given a wide berth in Africa, as both are deemed aggressive and dangerous. The buffalo, in particular, has a reputation for its unpredictable nature, and in a herd, these animals act as a unit with a mob mentality when it comes to dispensing with any kind of threat. For causing more human deaths a year, the notoriety goes to the hippo. These creatures are extremely territorial and will defend their section of the river from perceived intruders, such as fishermen. And despite their short, fat legs, they can run faster than a human.