Nature takes center stage in southern Africa
Travels with Deb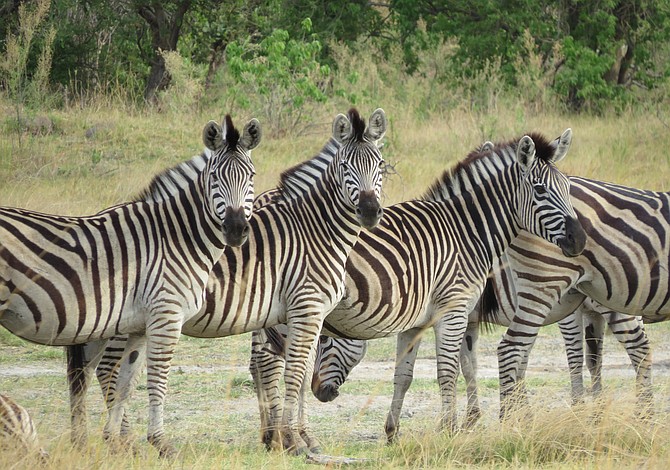 I am both repelled and fascinated by crocodiles. Their fearsome reputation precedes them and the fact that they outlived the dinosaurs has given their species legendary respect. No one wants to mess with a croc, but many people will seize the opportunity to view one up close, particularly within its natural habitat.
Prior to my trip to Botswana, I had only seen these primordial creatures in enclosed nature centers, where I felt removed from them. So, when the boat I was riding in started inching closer to the banks of the Chobe River, where a croc was sun bathing, the experience suddenly became, shall I say, too close for comfort. I could actually discern the individual scales on its shiny, mottled skin.
Despite the excited voices and camera noises from all the paparazzi onboard jockeying for position, the croc appeared to be comatose. But, then, it opened one reptilian eye and appeared to train its gaze directly on me. I nervously chuckled, while instinctively moving further back into the boat to gain some physical distance. After a few unsettling minutes, which were accompanied by our guide's litany of daunting facts about crocs regarding their size (up to twenty feet), bite strength (up to 3,000 pounds per square inch) and ability to overpower much larger prey (via the "death roll" maneuver), I averted my eyes and graciously allowed the cold-blooded creature to win this unnerving staring contest.
During my Chobe River safari, I saw many more crocs, from babies to full-grown adults, along with an assortment of other magnificent wildlife. The river acts as the northern boundary of Chobe National Park, Botswana's first national park, and joins four countries: Botswana, Namibia, Zimbabwe and Zambia. It's the region's heartbeat – a year-round, life-giving source of water.
Created in 1967, Chobe National Park occupies a diverse landscape, encompassing floodplains, swamps, grasslands, thick scrub and woodland. The multitude of habitats offer shelter for one of the greatest concentrations of game on the African continent. This world-renowned Eden is home to nearly 120,000 African elephants who dominate the park. Buffalo are equally numerous, along with a healthy population of lions in residence.
Most visitors to Chobe do a traditional jeep game drive in the park in order to spot the Big Five: lion, elephant, giraffe, buffalo and rhino, though the latter are increasingly difficult to find. It's not uncommon to see a herd of elephants crossing the road in front of your vehicle, on their way to the river. In linear fashion, led by the matriarch, these creatures move with a one-track mission, gaining in speed the nearer they get to the water's edge. You can feel the ground shake as they thunder past and their enormous mass is a thing of awe.
The African elephant can be identified by its ears. Extended, they are shaped like the African continent. Though their skin is thick, it is sensitive to the sun. In order to protect it, these creatures will cover themselves in mud or dust, typically after they've cooled off in the water. Observing elephants during one of these refreshment recesses was a constant source of amusement for me. They were so playful, especially the young ones, who would mimic the behavior of their mothers as they showered themselves with water and then rolled in the dirt.