Bullitt Mustang on Display in Tacoma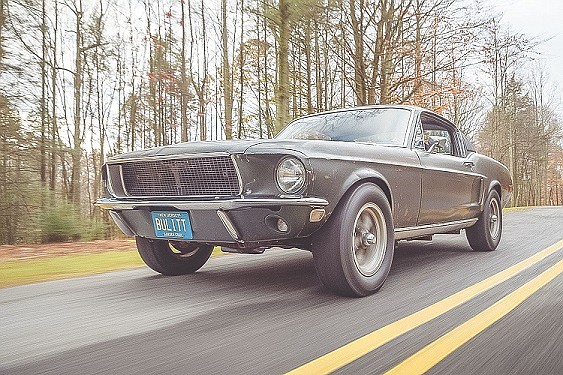 This article is sponsored by LeMay - America's Car Museum
One of the most iconic movie cars of all time, a 1968 Ford Mustang GT 390 Fastback – the Bullitt Mustang – is on display at America's Car Museum (ACM) in Tacoma through April 25.
The Ford Mustang, piloted by legendary actor and motorsports enthusiast Steve McQueen during the 1968 film Bullitt, left a lasting impact on movies and pop culture since its release. In Bullitt, McQueen played the title character, a police detective trying to bust a mob ring.
The movie's 9-minute and 42-second chase scene took a grueling four weeks to film. It was revolutionary for its time and put the audience inside the vehicle while driving up to 110mph on the streets of San Francisco. The chase scene was completely authentic, carefully designed by McQueen and stuntman Bill Hickman. It featured real speeds, real streets and real crashes.
"It's not every day that we get the chance to showcase a vehicle that has made such a lasting impact on the way cars are presented on film," said David Madeira, vice-chair of America's Automotive Trust.
Two Mustang GT 390s were modified for the making of Bullitt. After the movie, one of the cars was purchased to become the daily driver for the Kiernan family of Tennessee – but was eventually stored in their garage for years before being resurrected by Sean Kiernan. The second car is in Mexico, though it is in pieces.
"It's humbling to share the long and storied history of this Mustang with ACM guests. The story of this vehicle is as unique as the car itself," added Madeira. "We'd like to thank Sean and the HVA for giving us the opportunity to celebrate the history of one of film's most influential cars."
The Bullitt Mustang, still rocking its original paint and remaining largely unmodified, was showcased at the 2018 North American International Auto Show nearly half a century after the movie premiered. It became the 21st vehicle inducted into the Historic Vehicle Association's (HVA) National Historic Vehicle Register. The car is so culturally significant that its history and photographs will be archived in the Library of Congress for future generations. A short video about the car can be viewed at youtu.be/P91RFt9CpMc
LeMay – America's Car Museum (ACM) is an international destination for families and auto enthusiasts to celebrate America's love affair with the automobile and learn how it shaped our society. The museum is located at 2702 East D Street in Tacoma. For more information, call 253-779-8490 or visit americascarmuseum.org.