Aging Better
Getting Real About Getting Older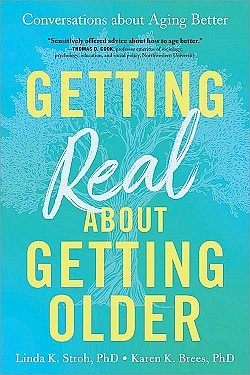 Authors Dr. Karen K. Brees and Dr Linda K. Stroh compiled a resource designed for those facing the physical and emotional challenges of growing older. Their book, Getting Real About Getting Older, asks the question: "What has the experience of getting older felt like for you?"
Full of advice and stories from a wide variety of older people, the project is meant to help people take control of their concerns about aging.
How did the book come about? "I had done some editing work with Linda Stroh," says Karen Brees of Poulsbo, "and we got to talking via email about what kind of a book we could possibly write together. One thing we had in common was that we were getting older and there didn't seem to be a whole lot out there written about this stage of life. We decided that this would be an interesting topic to tackle."
Their book seeks to provide insight into living fully in your sixties, seventies, eighties and beyond. Brees and Stroh asked nearly one thousand older people about the challenges and joys of growing older and compiled their collective wisdom into the book. Among others, the topics include: changing self-identities; friendships and romantic relationships; health, fitness and self-image; loss; relationships with adult children, grandchildren and siblings.
Asking other older adults about the aging process was an empowering process for Brees. "I feel affirmed. I believe that life is a journey. If our journey should turn Life Perspectives out to be a long one, we shall grow old. HOW we grow old, HOW we negotiate these latter years we have been given speaks to our faith in ourselves, those we hold dear, and what we believe comes after this stop on our celestial journey. Wonder. Faith. Expectations. Aging is not the end of life. It is simply the continuation of life.
"I am really, really glad to still be above ground and kicking," adds Brees. "Just like many of our respondents, life has thrown me some curve balls that just about dislocated my shoulder trying to catch. I am a 14-year cancer survivor, and every day is a blessing. Cancer changes you, if you are willing to accept the challenges it brings. I no longer take anything for granted. I am no longer an aggressive driver. If someone wants to pass me, fine. I have time. My priorities have changed. I want to live my life the best I can, do the best I can, avoid conflict and be forgiving for those who haven't gotten to my place in life."
Brees was struck by the openness of those that participated in the interviews: "Their willingness to share life experiences without holding back…we learned so much about our respondents. This book is not just an anecdotal reference book about aging. It encompasses the life stories and experiences of many hundreds of older folks." She was also struck by the suddenness of the realization of becoming older – "That was definitely a common theme. We live our lives day-to-day and, at some point, the realization hits that we have become 'old,' " reflects Brees. "How this happened, what it means, what the future holds – these became the impetus for our quest to understand what we are going through."
One of Brees' philosophies of life is, "As you age, keep growing and keep taking on new challenges." After retiring from teaching, she took her own advice and is currently an academic editor and writer, and coauthor of six books in the medical and general interest fields.