Winter comfort food: baked beans and brown bread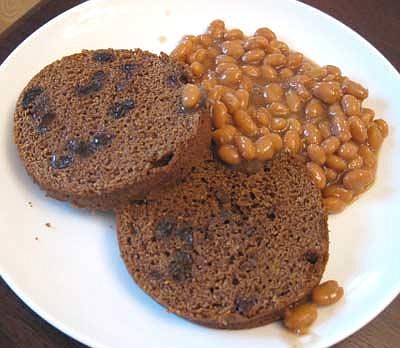 Winter is a perfect time to enjoy legumes like dried beans and lentils. They are some of nature's "super foods," naturally low in sodium and packed with protein, minerals and good fiber that helps lower your cholesterol. Use dried beans in your meals because canned beans and lentils contain a ton of sodium, as much as 900 milligrams per cup. That sodium makes your heart and kidneys work harder than necessary.
Dried beans are often thought of as taking too much time to make, but you can speed up the process by using a slow cooker. Put beans in your slow cooker in the morning before you head off to work and you'll be greeted with a heavenly smell and fantastic meal when you get home.
A loaf of traditional brown bread alongside gives you complementary proteins that will make your meal protein complete.
Dry beans will double or triple while cooking. You may have to play around a bit with the amount of dried beans your slow cooker can handle. The age of your beans will affect how long it takes to cook them and how much water they soak up. One pound of beans should fit in a 3.5-quart slow cooker fine; two pounds in a 5-quart cooker.
In general, one pound of dried beans makes the equivalent of three cans of beans and costs a lot less. Freeze extra cooked beans in zip-close bags for quick meals, in tacos or nachos.
Slow cooked baked beans
1 large onion
3 cloves garlic
1 pound mixed Great Northern beans, kidney beans and black beans
1 bay leaf
¼ cup cider vinegar
½ cup brown sugar
¼ cup tomato paste
2 teaspoons dried mustard
Sauté onion and garlic until tender. Add beans to slow cooker, top with onion and garlic mixture, add bay leaf, cider vinegar, brown sugar, tomato paste and mustard. Add water until it reaches 2 inches beyond the top of the beans. Turn cooker on low. If you can, check beans at about 5 hours. Depending on the beans, your cooker temperature and size, it should take 6-8 hours to cook. Serve with Boston brown bread (recipe below) and a salad for a complete meal. Serves 8.

Nutritional information (per serving):
Calories: 318, Carbohydrates: 52 grams, Protein: 15 grams, Sodium: 75 milligrams
Nana's Boston brown bread
3 cups wheat bran
3 cups flour
2 teaspoons low-sodium baking soda
2 tablespoons vinegar
2 cups nonfat milk
1egg
1 cup molasses
½ cup sugar
½ cup chopped nuts
½ cup raisins
Preheat oven to 350 degrees Fahrenheit. Mix dry ingredients. Add vinegar to milk, then mix in egg, molasses and sugar. Add to dry ingredients. Add nuts and raisins. Grease and line two to three large empty cans (any size) with labels removed. Fill each can about half full with dough and bake in cans for about one hour, depending on size of can. Once bread has cooled, slide a knife around the bread to remove it from the can. If it sticks, use a can opener on the bottom and push the bread out. This bread freezes beautifully. Reheat slices for 15 seconds in microwave before serving. Serves about 14.
Nutritional information (per serving):
Calories: 246, Carbohydrates: 53 grams, Protein: 6 grams, Sodium: 27 milligrams
[Katy G. Wilkens is a registered dietitian and department head at Northwest Kidney Centers. The National Kidney Foundation Council on Renal Nutrition has honored her with its highest awards: the Susan Knapp Excellence in Education Award and the Joel D. Kopple Award for significant contributions in renal nutrition. See more recipes at www.nwkidney.org.]