Soak up the ryokan vibes at Ten Thousand Waves
Travels with Deb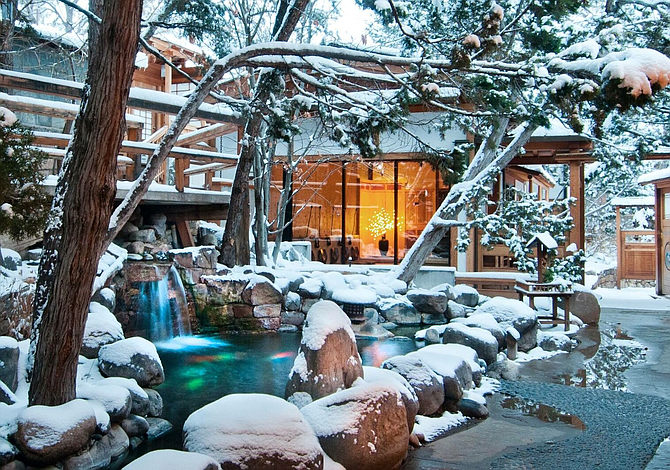 Spa treatments at Ten Thousand Waves have evolved over the years with an enhanced focus on traditional Japanese methods, many which are taught to the therapists by Japanese masters. There are nearly twenty treatment rooms and about 130 therapists. The Waves' has established a reputation for world-class bodywork, making it a magnet for top talent. Add this to the fact that Santa Fe is a mecca for healing practitioners of all modalities.
Massage is the most requested treatment at Ten Thousand Waves and the spa excels in its offerings, which range from therapeutic and signature Japanese shiatsu to deep stone and Thai. Foot and neck treatments, herbal wraps, salt glows and a variety of different facials are also on the menu. You can amp up the experience with a Four Hands massage (two therapists working on you in synchronized fashion) or a Nose to Toes, involving a blend of various treatments, including exfoliation, massage with Thai stretches, an extended Yasuragi head, neck and shoulder treatment and a Japanese foot massage and scrub.
My deep stone massage was transformative bliss. Throughout the session, the therapist addressed my areas of tension – and believe me there were plenty! She alternated the use of hot and cold stones, placing them in strategic spots on my body, and then massaging them into my muscle tissue. The release was profound, leaving me fully relaxed and uncoiled. Not quite a Gumby Doll, but darn close!
After a few hours of indulgence, I made my way to izanami, the Waves' upscale izakaya restaurant. Typical Japanese izakaya serve small plates, designed for sharing. At izanami, meat is sourced and produced from known and trusted purveyors, and the majority of the produce is local organic, including some that is grown right across the road. Fresh ingredients are the emphasis. And because of the distance to the ocean, there is no seafood on the menu, so you won't find sushi here, contrary to what you might expect at a Japanese restaurant.
Dishes are listed under headings such as "cold," "hot," "fried," "grilled" and "sweet," with many items gluten-free and/or vegetarian/vegan. The idea is to order several plates, which will enable your palette to embark on a memorable, sensory journey. Sample the tsukemono seasonal pickles – all are made in house. I couldn't get enough of the purple daikon radishes and lotus flowers. Try the gyoza and the sake braised shimeji & oyster mushrooms, or the corn fritters with fresh wasabi. The hatcho miso-glazed chicken drummettes are a favorite, as are the crispy Brussel sprouts. Carnivores will enjoy the umami burger and wagyu steak. There's also a separate kushiyaki menu, where you can choose from different meat and vegetables skewers grilled over mesquite/Japanese bincho charcoal flame. Finish it off with homemade ice cream or the miso mousse cake.
For a unique dining experience (lunchtime only), opt for the shabu shabu, or Japanese hot pot. It's a cook-it-yourself feast with assorted organic, seasonal veggies, tofu and noodles, with dipping sauces. Being a participant in the cooking process is fun. Even more enjoyable is getting to eat the results!