Soak up the ryokan vibes at Ten Thousand Waves
Travels with Deb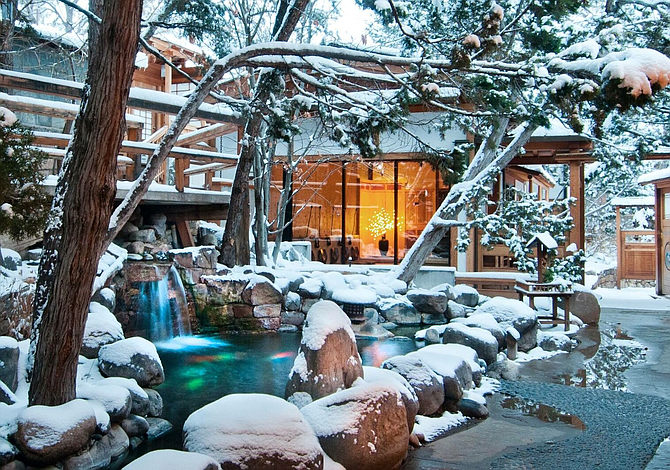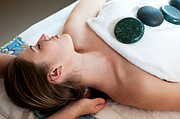 It's a bit embarrassing to wake up and find yourself drooling like a baby, especially when there's someone else to witness this cringe-worthy moment. I laughed self-consciously, hoping to deflect the situation humorously. Thankfully, my massage therapist kindly helped me save face by explaining that this was a clear sign I had reached total relaxation during my deep stone treatment. I told her she was a wizard with hot rocks.
It was the prospect of a deep stone massage that drew me to Ten Thousand Waves. That and soaking in one of the tubs at this unique spa-centric sanctuary in Santa Fe. Nestled in a secluded mountainside forest, the place is a haven for those seeking relaxation and serenity. It's a well-known getaway for locals and tourists alike, and the fact that it's located on the road to the area's ski basin and hiking hub gives it even greater appeal.
Back in 1981, founder and owner Duke Klauck was motivated to open the place by his love of hot springs and his interest in the Japanese culture of bathing. This ritual is deeply integrated into Japanese society and the country has a long history of public bathing in both urban and rural settings. Going to an onsen is a cherished experience for Japanese people, who appreciate the curative nature of hot water and its ability to cleanse, both physically and spiritually.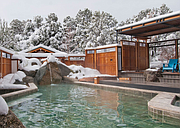 For a lot less than the cost of airfare to Tokyo, a visit to Ten Thousand Waves will immerse you in all things Japan, from the Asian-inspired architecture and design to the traditional style onsen and food. To ensure authenticity, Klauck travels to Japan several times a year and returns with fresh concepts of integrating Japanese aesthetics into the spa. Having stayed in several ryokans (traditional Japanese guesthouses) during my travels to Japan, I can attest to this authenticity. A visit to the Waves will undoubtedly transport you to the Land of the Rising Sun.
When Ten Thousand Waves opened initially, the primarily focus was on the outdoor bathing experiences. Modeled after the great hot spring resorts of Japan, all bathing environments have both hot tubs and saunas. There are two public areas – one for mixed bathing and another for women only. Additionally, there is a number of private facilities. All include outdoor hot tubs, cold plunges, saunas, lounging decks and other amenities. For the ultimate in bathing experiences, book one of the spa suites, which are completely self-contained with your own private changing room and shower.
Soaking in the hot water under one of New Mexico's famed bluer than blue skies is pure delight, and in winter when it snows, it's wondrous. Wild mountain vistas and towering trees create a dramatic backdrop, reminiscent of a scene from Hokkaido. And although there isn't the fragrance of cherry blossoms in the air, you'll find the scent of desert sage and piñons to be equally intoxicating. All the while, the musical sounds of trickling water from the artfully placed fountains and pools are omnipresent. At night, the place takes on a fairytale glow from the flickering lanterns.