Grateful
Sharing Stories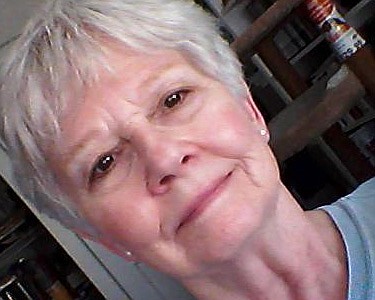 This is how Anne Dillon responded to the homework in her Joyous Ruminations online class: What am I most grateful for in my life right now? Why does that make me grateful? How does that make me feel? This one feels appropriate for Valentine's month, too.
Grateful
To quote my late husband, Bill: "Waking up on the grass side of the dirt is a good thing."
At 78 years old, I am most grateful to greet the world each day, rain or shine, with or without painful joints, with money in the bank or slightly poor. It doesn't matter. A new day is a new day and I am thankful.
It gives me pause for thankfulness when I hop on I-5 to drive my granddaughter to school in Tacoma, a two-hour plus round-trip drive in heavy traffic. My mother did not drive and was in her grave at 78. I am grateful to be a vibrant 78-year-old woman of independent means and choices. Nice!
I feel independent when I am not afraid to drive on freeways. I feel competent when my son trusts that I am able to transport his precious daughter to school without incident.
I am grateful for the affection of a lovely man in my life. I am happy that we like to see movies together, or share a glass of wine, or that he likes to talk politics with me. I am grateful that we are on the same side. Good one.
I am grateful to be on good terms with all people, especially the ones I am related to. I like that my cat, Jilly-Bean, greets me with deep throaty purrs.
So, to paraphrase a quote from a beautiful man: I am grateful to wake up on the grass side of the dirt each morning.
Anne Dillon is a longtime Washington writing student with Ariele Huff.
SHARING STORIES is a weekly column for and about the 50 plus crowd living in the Puget Sound region. Send your stories and photos to ariele@comcast.net. Tell local or personal stories; discuss concerns around aging and other issues; share solutions, good luck, and reasons to celebrate; poems are fine too. Pieces may be edited or excerpted. We reserve the right to select among pieces. Photos are always a plus and a one-sentence bio is requested (where you live, maybe age or career, retired status, etc.).
SHARING STORIES is featured on www.northwestprimetime.com, the website for Northwest Prime Time, a monthly publication for baby boomers, seniors, retirees, and those contemplating retirement. The newspaper can be found in the greater Seattle area and other Puget Sound locations. For more information, call 206-824-8600 or visit www.northwestprimetime.com. To find other SHARING STORIES articles on this website type "sharing stories" in the search function above.