Hummingbird
Sharing Stories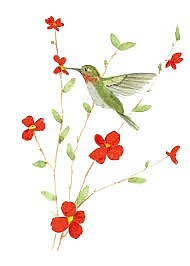 HUMMINGBIRD
Autumn days darken early. Time orbits away from the sun.
Leaves change, colorful fallen rainbow tears, then not one.
Settle leafy skeletons, crisp unwrapped mummies in a pile.
Nature blankets winter chills, expecting spring's new style.
Hummingbird's needlelike beaks probing remnant flowers.
A long-ago Christmas week, untimely hospice urgent visits.
Held her hand. Wanted to stop time. Emotions, edgy fidgets.
The view, a hummingbird feeder hung—watery ornament.
Watching hummingbirds entertain—Christmas day event.
Hummingbird wings flutter, rapid ghostlike super powers.
Women at the front desk talked about the feeder as I left a hospice visit.
I oohed and aahed, telling them the hummingbird surprise was exquisite.
When I see a hummingbird, emotions touch December. Now time's passage,
I have a knowing smile. I receive a mysterious, happy hummingbird message.
Hummingbird feeder outside my window…. I will watch for hours.
April Ryan is a Washington resident and frequent contributor to Sharing Stories and Poetry Corner.
SHARING STORIES is a weekly column for and about the 50 plus crowd living in the Puget Sound region. Send your stories and photos to ariele@comcast.net. Tell local or personal stories; discuss concerns around aging and other issues; share solutions, good luck, and reasons to celebrate; poems are fine too. Pieces may be edited or excerpted. We reserve the right to select among pieces. Photos are always a plus and a one-sentence bio is requested (where you live, maybe age or career, retired status, etc.).
SHARING STORIES is featured on www.northwestprimetime.com, the website for Northwest Prime Time, a monthly publication for baby boomers, seniors, retirees, and those contemplating retirement. The newspaper can be found in the greater Seattle area and other Puget Sound locations. For more information, call 206-824-8600 or visit www.northwestprimetime.com. To find other SHARING STORIES articles on this website type "sharing stories" in the search function above.