Happy Diamond Jubilee
Longtime Washingtonians Clarence and Doris Roedell celebrate their 75th Wedding Anniversary

Despite the hardships, Clarence thrived in Nooksack, sporting around in his dad's Model A Ford, playing center on the high school basketball team (Gale Bishop, who turned professional after attending WSU, played there too), and hanging out with his friends and double cousins.
Flag Twirlers & Boeing's Red Barn
Meanwhile, Doris Scott spent her formative years from 5th to 10th grade at the other end of the state in Colfax, a bustling wheat town in the scenic Palouse, a hop-skip-and-a-jump from Washington State University. She camped with the Campfire Girls, watched movies, went to dances and marched as a flag twirler at parades and school games.
Doris had two sisters and a brother but spent as much time as possible with her two best friends. The three were known to dress alike and it was always a thrill when one of the mothers would drive the trio into Spokane to pick out dresses, especially for an important event like the Junior Prom.
Before the family moved to Colfax, they shuffled around quite a bit as her parents looked for work. Doris was born on Seattle's Beacon Hill but moved to her father's family farm in Valley (north of Spokane) when she was about three. They later relocated to Spokane among other places, but Doris especially remembers the farm where she learned how to milk the cow to feed the kitty. She recalls the gentle cow with fondness: "Old Bess wouldn't hurt anyone."
Life in Colfax was fun for Doris, despite the hardship of having a fulltime working mother and a father disabled from mustard gas during WWI. It was a shock when she learned that her pleasant life was about to be uprooted because they were moving to Seattle. Her mother would soon be working as a "Rosie the Riveter" at Boeing's historic birthplace, the Old Red Barn.
"Mother loved working there," says Doris. "She had friends and was making good money. That was one of the happiest times of her life."
Seattle's wartime boom summoned thousands of workers from across the country. The Scotts and Roedells were no exception; both families arrived in the summer of '42 from opposite ends of the state. The Roedells moved into a brand-new apartment at Yesler Terrace overlooking downtown Seattle (their first home with indoor plumbing); the Scott's moved to Capitol Hill with the smell of fresh-baked bread wafting in from nearby Langendorf Bakery.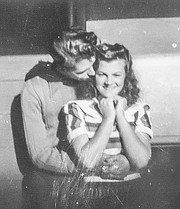 When Doris Met Clarence
Before Doris met Clarence, she met his younger sister, Carol. Both were small-town kids thrown into big city life at Broadway High, confronted with cliques of girls who wore cashmere sweaters and saddle shoes. The two swiftly bonded and never looked back. High school life didn't seem as important as skipping class each time a new Frank Sinatra picture hit town, or their jobs at Bartell's (where they often met old Mr. Bartell, who was known to shake hands with his employees at Christmastime). School certainly didn't seem as important as the romance that was about to bloom for the not quite 16-year-old Doris.