Growing up with Grandma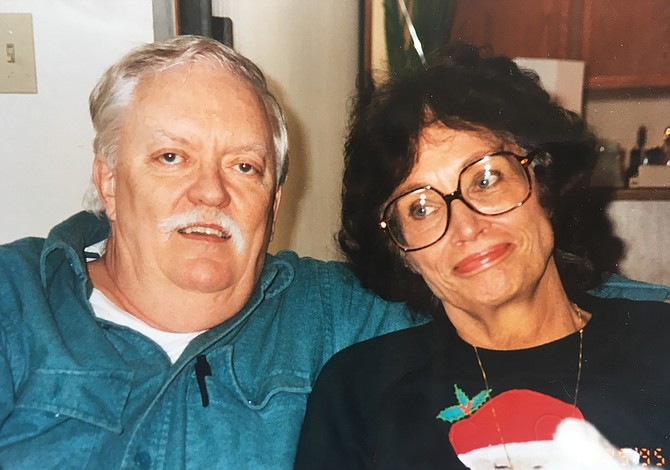 From as early as I can remember, my Grandma Joan has lived in a small beach town on the Olympic Peninsula of Washington. Ocean Park is a quiet community of mostly retirees and families. Locals and visitors ride bikes, fish, clam dig, golf, fly kites, run up and down the miles of cold, packed, wet sand. My parents, sister, grandparents and I drove to past cranberry bogs, picked blueberries, ate fish and chips, played in tide pools and explored the kelp-covered beach.
Grandma and Grandpa reached their arms out for jumping hugs as my sister and I bound up the dozen or so steps leading from the driveway to their beachfront home. Grandpa carried me on his back into the house: I was nervous to be at eye-level with the dogs. Their Belgian Shepherd, Smokey, intimidated me at my same height and weight. Another dog, a Schipperke named Kizzy, intimidated me less. She was strong, but small and friendly.
The house smelled of chopped celery, vinegar and eggs. Grandma had prepared a potato salad for us to snack on, one of her many classics (extra pickles, light celery, add olives). She kept many snacks. There was always her homemade raspberry jam, which we smothered on top of bagels with cream cheese. She made me grilled cheese sandwiches, served me bowls of ice cream with fresh berries, cereal from the small pre-portioned boxes in the cupboard, just out of reach until I stretched past 4 feet tall.
Grandma ran errands with my sister and me in the morning, taking us from the post office, to the grocery store, to the pharmacy, then to Oysterville Sea Farms for fresh oysters and clams from Willapa Bay. Oysterville was just on the other side of the Peninsula, a short drive. The store smelled incredibly salty. Large windows opened up the business to sights of Willapa Bay, just a few hundred feet away. We bought oysters and sucked them down on the deck in the sun, watching out for seagulls and squealing at the slimy feeling. My sister developed a taste for them; I did not.
We drove 20 minutes from Ocean Park to Long Beach, asking questions and telling jokes. Grandma reminisced about my mom and her siblings as children. She compared the generations and marveled at the similarities. She told us stories that ended in life lessons and taught us to be grateful for our parents and lifestyles.
At the pharmacy, Grandma had us practice our please and thank you's. One day, a merchant selling Beanie Babies outside gifted us one stuffed animal each. He praised us on our good manners, and Grandma beamed. We were quick to learn good and bad manners in her presence, which I find myself adhering to today. Sometimes her lessons and love were tough; she always made sure we knew the difference between good and bad behavior for us kids.
To get to the beach from her house, we took a few steps out the backdoor, then through a trail between tall blades of dune grass. Her Shepherd ran circles around us, herding as we walked or ran up and down the shoreline. Once the sun began to set, we built campfires and roasted hot dogs and s'mores. Grandma showed us how to get the marshmallows done just right.