River Cruise showcases Chicago's gems
Travels with Deb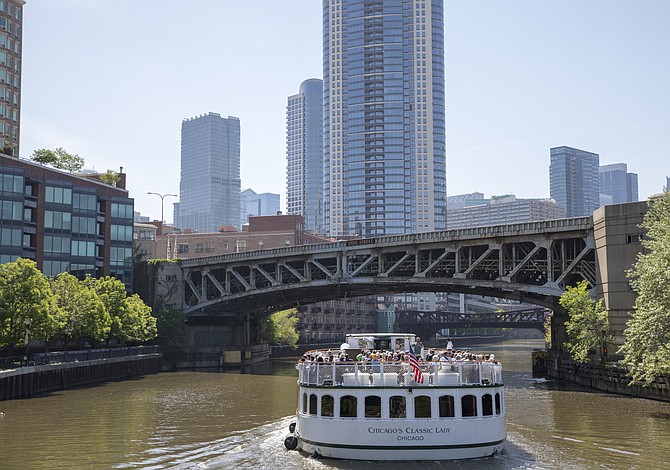 Though devastating, the Great Chicago Fire created a clean slate for Chicago to rebuild. Architects laid the foundation for a modern city, featuring the world's first skyscrapers. By 1890, the town was a major economic and transportation center with a population of about one million. A few years later, it hosted the World's Columbian Exposition. The event, which was spearheaded by architects Daniel Burnham and John Wellborn Root, influenced Chicago's architecture for decades.
As you cruise down the river, you'll notice that many of the city's buildings feature international styles of architecture. You can basically take these structures and put them anywhere in the world and they'll fit right in. The Wrigley Building, for example, is comprised of two European-Renaissance-inspired edifices clad in white terra cotta tiles, with a clock tower modeled after the Giralda bell tower in Seville, Spain. Wrigley actually began as a laundry detergent company, and in each container of detergent it sold, a free package of gum was included. The gum became so popular that the company decided to do away with the detergent and sell gum instead.
One of the oldest buildings in the city, dating back to 1898, is the Fulton House. Originally a cold-storage warehouse, it was insulated with horsehair and cork, and boasted four feet thick walls and two feet thick floors. In 1981, this giant refrigerator was converted to condos and offices based on designs by Chicago architect Harry Weese.
A number of other warehouses have followed this pattern of adaptive reuse. 600 West, for example, once served as Montgomery Ward's massive catalog center. Designed by Schmidt, Garden and Martin in the early 1900s, the structure's horizontal emphasis and geometric ornamentation reflect the Prairie Style often associated with Frank Lloyd Wright. The building was transformed into a tech center about twenty years ago, and is presently being updated with a renewed focus on accessing the outdoors. Its location, perched on the river's edge, is widely coveted.
Another behemoth is the Merchandise Mart. Designed by Graham, Anderson, Probst & White, the Mart, as it's commonly called, was originally conceived as a distribution center for Marshall Field & Company. The two-city-block structure has Art Deco styling with pyramidal towers and pedestals containing busts of famous merchants.
Marina City, a Bertrand Goldberg masterpiece, was considered an urban experiment when it was completed in the 1960s. Goldberg sought to create a mixed use building in the middle of downtown to draw middle-class Chicagoans back to the city after years of suburban migration. The well-recognized 61-story twin towers with semicircular balconies comprise a complex of residences, parking, marina, restaurant, theater, shops and even a hotel.
Lake Point Tower, with its distinctive wavy curves and dark-tinted glass, is quintessential Chicago Modernism. Designed by Schipporeit and Heinrich, the building is bold and masculine, yet exudes a sense of grace. Modernism was also the purvey of esteemed architect Mies van der Rohe, whose AMA Plaza (originally the IBM Plaza) exemplifies minimalism and austerity. Occupying a prominent place on the river, this steel and glass structure stands as a powerful sentinel of the city.