Cirque du Soleil's Crystal Is a Magnificent Melding of Human Talent, Technology & Extreme Athletics - On Ice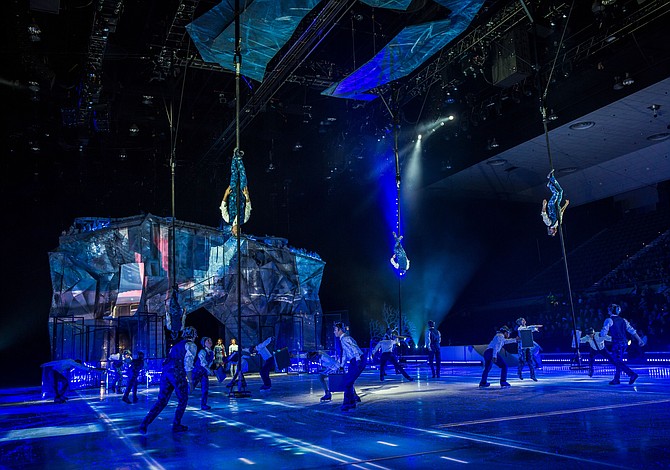 Cirque du Soleil produces two types of shows - tent shows that spend several weeks on location and arena shows that usually come to a location for a week. However, they only have one on ice arena show, and that show Crystal opened Wednesday (4/10/19) in the Seattle area at Everett's Angel of the Winds Arena.
Although most of the young children in the audience who have been raised on special effects movies can't appreciate what they were seeing, as an older adult who recognizes the limits of the human body, I can attest to the fact that the show is filled with "how can they possibly do that" moments. Having spent a couple hours prior to the show backstage, I can also say that those incredibly talented performers have a rare intense practice ethic and dedication to the show.
Add that talent and dedication to the most advanced technology known then put it in an ice arena and you have Crystal. It's a unique show that has something for everyone and should not be missed.
No words, pictures or even videos can provide more than a hint of the experience of excellent, pushing-the-edge-of-the-possible entertainment that Crystal provides to audiences. It is dazzling, breathtaking, beautiful and sometimes dangerous. It's also filled with technology that few notice.
For example, some very fast and often quickly direction-changing skating is perfectly spotlighted. How? By computer controlled spotlights that follow sensors embedded within each performer's costume. Similar sensors are put into the ice using special ink so that lighting patterns follow skaters making them seem to be painting on ice as they skate.
Then there are the acrobats, or as Cirque du Soleil calls them "the flyers." I've seen Chinese Pole performances before, but never on swinging poles. That's because this is a new idea created by Cirque due Soleil.
All in all, Crystal is an extravaganza of art, beauty, talent and entertainment that is not to be missed during the Everett run that continues through April 14.
L. Steven Sieden is a writer, event producer and global futurist. His books include "Buckminster Fuller's Universe" and "A Fuller View, Buckminster Fuller's Vision of Hope and Abundance For All". He has been reviewing Seattle area theatre and live entertainment since 2012.