You too can make this spring `egg nest' wreath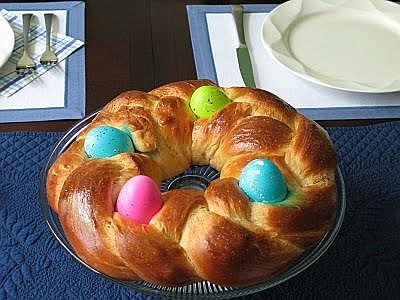 I can tell spring is here because my neighbor who raises chickens gives me dozens of fresh eggs every week! There is nothing quite as good as a home-raised fresh egg. They are so fresh with bright orange yolks. The liquid white of fresh eggs is not runny, and sits in a mound around the yolk in the pan. And the flavor is unique. If you don't have a generous neighbor drowning in eggs, check out your local farmers' market for a fresh deal.
To check if your eggs are fresh, put them in a bowl filled with water about twice as deep as the egg. Fresh eggs are heavy and will sink. The older the egg, the bigger the air sack in them, and the more likely they will float.
This recipe is a family favorite for spring. My boys used to color the eggs bright colors before slipping them between the folds of dough. Now I like to use the more natural colors of my friend's brown, white and light blue Araucana eggs from her South American chickens. My favorite though, if you can find them, are quail eggs. If using them, I make three small braids with the dough, and create a few openings in the braid with my fingers. I hard cook the eggs separately and insert the quail eggs after baking the dough, since their thinner shells break in the heat of the oven. This wreath is worth showcasing on a brunch table. Best of all, since no salt used, it is a healthy spring treat as well. Your heart and kidneys will thank you.
Spring egg nest
¾ cup nonfat milk
¼ cup butter
1/3 cups sugar
1 egg
1 package active dry yeast
2 teaspoons ground cardamom
2 ¾ to 3 cups flour
1 teaspoon oil
6 dyed chicken eggs, or use natural brown, white or blue chicken eggs, or 12 quail eggs
1 tablespoon sugar, coarse sugar if you have it
Heat milk in microwave until warm. Let cool to lukewarm. In a bowl or mixer, cream butter and sugar, then beat in the egg. Add yeast, milk and cardamom. Add flour and mix to make soft dough. Knead until smooth and elastic, about 5 minutes. Put 1 teaspoon of oil at the bottom of a bowl, add dough, turning to grease the surface. Cover dough with a clean cloth and let rise until doubled, about 1.5 hours. Fold dough down (don't punch it; the dough will rise higher if you fold it). Place on lightly floured board, divide into three equal parts and let rest 10 minutes.
Roll each part into a long rope and put on a greased cookie sheet. Start braiding in the middle and work toward each end. Tuck each end under a bit. Form into circle and pinch ends together. In between the braids at regular intervals, slip in brightly colored raw eggs.
Cover with a clean towel, let rise about 45 minutes until doubled. Brush with milk and sprinkle with 1 tablespoon sugar. Bake at 375 degrees Fahrenheit for 20-30 minutes until brown, cool.
Nutritional information:
Calories: 213, Carbohydrates: 41 grams, Protein: 5 grams, Sodium: 93 milligrams
The information in this column is meant for people who want to keep their kidneys healthy and blood pressure down by following a low-sodium diet. In most cases, except for dialysis patients, a diet high in potassium is thought to help lower high blood pressure. These recipes are not intended for people on dialysis without the supervision of a registered dietitian.

[Katy G. Wilkens is a registered dietitian and department head at Northwest Kidney Centers. The National Kidney Foundation Council on Renal Nutrition has honored her with its highest awards: the Susan Knapp Excellence in Education Award and the Joel D. Kopple Award for significant contributions in renal nutrition. See more recipes at www.nwkidney.org.]