A Thousand Words Worth
Washington authors tell Northwest stories through historic rtifacts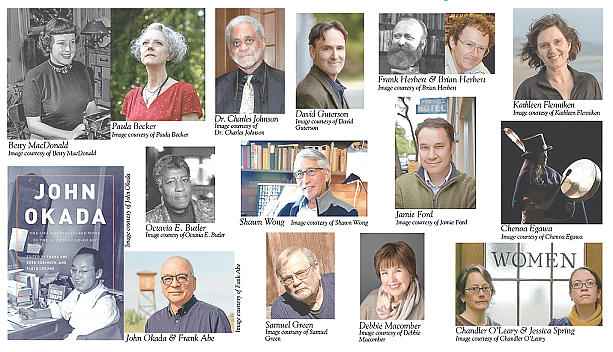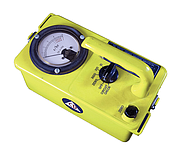 Kathleen Flenniken, who began her career as a civil engineer and didn't discover poetry until her 30s, served as Poet Laureate of Washington State in 2012. She is the author of two poetry collections including Plume, a meditation on the Hanford Nuclear Site in her hometown of Richland, and Famous, which was named a Notable Book by the American Library Association.
Jamie Ford's bestselling debut novel, Hotel on the Corner of Bitter and Sweet, was set in Seattle. It spent two years on the New York Times bestseller list and has been optioned for and film and stage. His second book, Songs of Willow Frost, was also a national bestseller. Ford grew up in Seattle's Chinatown district but now lives in Montana. His website shows him beside a photo of his great-grandfather, Min Chung, who changed his name to William Ford (it's a long story, says Ford).
Samuel Green, who served as the first Poet Laureate of Washington in 2007, has lived off the grid for more than 36 years on a remote island off the Washington coast. With his wife, Sally, he is co-editor of the award-winning Brooding Heron Press. He has been a visiting professor at many universities and has received multiple awards and honors for his work. From 1966 through 1970, he was in the U.S. Coast Guard, with service in Vietnam.
David Guterson is the best-selling author of many books, including Snow Falling on Cedars. The lines of Guterson's poetry that accompany the museum exhibit are from his book-length poem Turn Around Time, (Mountaineers Books, Fall 2019). A native of Seattle, Guterson has lived on Bainbridge Island for the past 35 years.
Frank Herbert is author of the science fiction classic, Dune. His son, Brian Herbert, the author of multiple bestsellers, worked on his father's behalf for this project. Frank Herbert grew up in Washington State loving the books of H.G. Wells and Jules Verne. DUNE took six years to complete and was rejected by 23 publishers before finally being accepted. In all, Frank Herbert wrote nearly 30 books and collections of short stories.
Dr. Charles Johnson – novelist, philosopher, cartoonist/illustrator, essayist, screenwriter and professor emeritus at the University of Washington – is the author of the National Book Award-winning novel, Middle Passage. This and other works address the issues of black life in America. A MacArthur fellow, Johnson is a student of Buddhism and martial arts. Since retiring from teaching, Johnson explores many different things "just for the sake of curiosity."
Debbie Macomber's #1 New York Times bestselling novels include the popular Cedar Cove series (adapted into a TV series) and her annual Christmas books, many of which have been made into Hallmark Channel movies. She serves on the Guideposts National Advisory Cabinet, is a YFC National Ambassador and is World Vision's international spokesperson for their Knit for Kids charity initiative. A devoted grandmother, Debbie and her husband live in Port Orchard, the town which inspired the Cedar Cove series.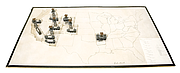 Seattle-born John Okada is the author of No-No Boy, the story of a Japanese American in the aftermath of his internment during WWII. Okada's contribution to the project is interpreted by Frank Abe, author of the John Okada biography. Abe is a widely published journalist and producer/director of the PBS documentary Conscience and the Constitution. He is also collaborating on a graphic novel dramatizing the resistance to wartime incarceration. Abe was senior reporter for KIRO radio in Seattle, served as communications director for two King County executives and the King County Council.