50 Years of Saving Snake Lake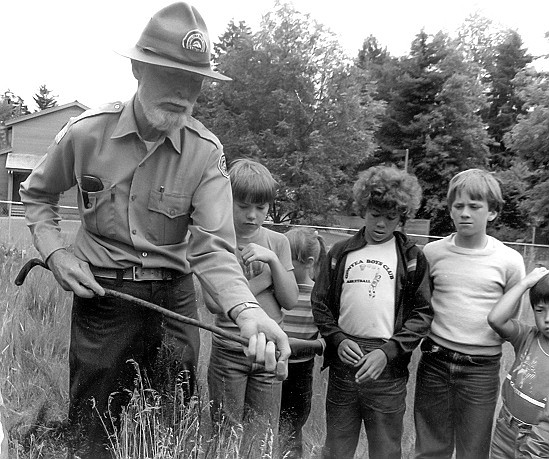 For years, Tacoma's Snake Lake didn't rate more attention than a wasteland. Its wet, brushy surroundings were most often penetrated by youngsters who bushwhacked in to fish, catch frogs or, in especially frigid winters, dared to skate across on ice.

The heart of the serpentine water body had belonged Metro Parks Tacoma since 1928 but remained neglected for decades. That all changed 50 years ago in the spring of 1969 when leaders of Tacoma's budding environmental movement set out to preserve what is now a treasured resource.
It took ten more years of planning and lobbying before the official opening of the Tacoma Nature Center. A small crowd bundled in parkas and rain gear stood shoulder-to-shoulder, surrounded by brush at the April 1979 dedication ceremony.
The original 53.9 acres – now 71 – offered a network of trails and bridges, which could be opened to allow canoes to pass through. Metro Parks hired one of the preserve's chief advocates, Bob Ramsey, a landscape architect, as a part-time manager. He worked out of his Honda station wagon for more than a year until Tacoma Public Schools donated the first of two surplus portable classrooms as headquarters.

The current 9,000-square-foot interpretive center opened in 1992. Today, some 40 years after its official opening, the center is recognized as a cradle of environmental awareness, aiming as it does to introduce children and young families to the importance of wetlands and wildlife conservation in an urban setting.
"We all owe a great debt to the farsighted people who stepped in to save Snake Lake when it could have been filled in to make way for Highway 16," said Aaron Pointer, president of the five-member Metro Parks Tacoma Board of Commissioners.
The nature center exists because of the persistence of dedicated volunteers who valued the site. Many were members of the newly formed Tahoma Audubon Society, which initially shared office space in the donated portable classrooms.
A small group of volunteers, including Ramsay, drew up a proposal asking the Tacoma School Board to save Snake Lake as a learning laboratory for area schools. About the same time, the state Department of Transportation had drawn up plans to fill part of the lake to make way for State Route 16. And Tacoma public works officials wanted to relocate and widen what is now Tyler Street, adjacent to the lake.
Ramsey and others rallied conservation-minded Tacomans to join forces to preserve the wetland. One was William Daugherty, an Audubon member, whose recollections are included in the center's informal history. He described the lake back then as an "elongated trough of dirty water…The only thing I had known it good for was, in cold enough winters, ice skating. I so used it once, avoiding the tires and discarded rake handles protruding through the firm, fixed surface."
However, it didn't take long for Daugherty to become convinced of the lake's value. Led by Ramsey and others, advocates persuaded the state transportation officials to build a freeway bridge over the lake instead of filling it in.