The Mercer Girls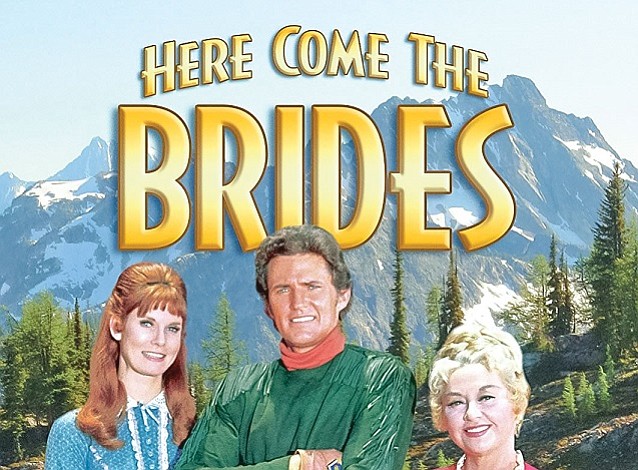 Here Come the Brides, the 1960s television show that was set in 1860s Seattle, is celebrating its 50th anniversary this year. You may remember Perry Como singing the show's theme song, "The bluest skies you've ever seen are in Seattle..."
Here Come the Brides was based on the premise that there weren't enough women for the lumberjacks in the rough and tumble logging town of Seattle, so 'marriageable ladies' were imported from the east coast.
Sounds like a cute premise for a sit-com, but the storyline was actually inspired by a true-life account of one of Seattle's movers and shakers, Asa Mercer, and a group of women later to become known as the 'Mercer Girls.'
At the time, Seattle was in danger of losing its lumberjacks and fisherman to other locations. Seattle was also in need of school teachers. Asa Mercer (president of the Territorial University – later to become the University of Washington) took it upon himself find women in Massachusetts to fill Seattle's needs.
Because of the Civil War, men and jobs were rare commodities on the east coast. Over the course of two separate ventures, Asa Mercer was able to persuade dozens of women to make the trip by steamer around South America's Cape Horn and up the Pacific coast to Seattle.
The second expedition included newspaper reporter, Roger Conant. Conant became well-acquainted with Mercer and the woman during that three-month voyage from New York to Seattle. Conant's account of the voyage offered an entertaining glimpse into this chapter of Seattle's history. In 1960, WSU history professor Lenna Deutsch revisited Conant's journals and notes; she published Mercer's Belles –which became an instant classic of Northwest history and the inspiration behind the television show, Here Come the Brides. The book fell out of print but was later reissued, complete with a new forward by historian Sue Armitage.
Armitage recently shared her perspective on Mercer's Belles in an interview with KNKX's Kevin Kniestedt.
"Seattle was only a little more than 10 years old and it was a pretty scraggily place," said Armitage. "Asa Mercer, who was at that point all of maybe 26 years, got this bright idea that he would import some women from the east." Mercer's thought that some women might be willing to be among the founders of the city, to "help civilize this frontier town of Seattle."
"There were two waves," said Armitage. "There were 11 in the first trip. And as everybody expected almost all of them got married, some of them immediately, practically on the dock because they were besieged by men…"
Armitage notes that one woman, Lizzie Ordway – the oldest "Mercer Girl" at 35 – had no intention of marrying. Ordway later went on to become the first teacher in Seattle's first public school, the founding member of Seattle's Suffrage Society and the first female superintendent of Kitsap County schools.
Most of what we know about the second expedition comes from Conant's journal and newspaper articles. "The journal entries painted a much more complicated picture of the group of women themselves," said Armitage. According to Conant, the second bunch of women teased Mercer mercilessly, calling him "the old man." Conant, who didn't care for Mercer, was only too happy to report on the "juiciest gossip" of the voyage. Mercer had developed a crush on one of the women; without giving her the slightest clue of his intentions, Mercer invited her to his state room and asked her to marry him. "The maiden laughed in his face and walked out," said Armitage.
Most of Mercer's Belles turned out to be solid Seattle citizens and "really did, indeed, contribute to the civilizing of Seattle – which at that point needed a fair amount of civilizing," concluded Armitage. "I think it must have been a tremendous adventure."
Listen to Susan Armitage's interview at knkx.org