Everything is Moving, But I Feel Perfectly Still
Sharing Stories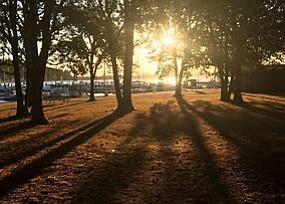 Everything is Moving, But I Feel Perfectly Still
By Gretchen Houser
Our camper, late afternoon, watching the lake nearby: a wind softly blows, coolness in its breeze. The sun's sudden warmth on my face is appreciated. Savoring the few precious rays, our last summer weekend here. Children run and dart, swirling and twirling in whirlpools of leaves, hiding from one another, trying to use up these last sweet days. Winter feels so far away while summer is here, like a girl waiting for her first prom.
I unwrap the leftover brisket of beef sandwich; juice runs down my chin (ah, juice!) I am suddenly sentimental about this brisket; it grows incredibly dear. Then, it disappears.
An electric buzz saw scissors the air, strangely out of place. The grass beneath my tennis-toed feet looks inviting. I bend to smooth it, like a woman caressing her man's cheek. Its sweet dewiness skims my hand; not as newly green as at summer's start, still, grass is grass.
A green gloomy mass hovers over the lake. Algae, someone said. Still, I imagine schools of silvery minnows safely swim, unaware.
Picnic table needs repair—the weathered wood, the rusty nails. It groans when I perch myself there, as though I'm an old woman turning over in bed. Regardless, I nestle into my knee-hugging self and am content at these simple pleasures.
I watch the lake; its water slightly swirling as the wind dances gazelle-like through the trees. The clouds too are moving, swiftly and surely, striding purposefully through life in constant motion.
Laser-sharp sunbeams make their presence known for the last time today, and dust-lined, shine a message. But before I can catch the meaning, the sun sinks behind the lake. Everything is moving, but I feel perfectly still.
Symmetry at its base, an acute, stunning observation, surely not mine to claim. Our earth will continue tumbling long after I'm gone, long after all traces of me have disappeared. I know with sudden, startling clarity, there must be an unseen force behind all of this for who could invent such near perfection?
Smells of nearby campfires, crackling wood fires, the jolting, unwelcome blare of a radio, and then, slowly, Coleman lanterns blinking here and there, appearing like a caravan of pioneer travelers on the night's light horizon. Friends visit back and forth at each other's campsites, traipsing through the darkening woods. All of this is perfection in its own way, and with everything moving, I feel so perfectly still, this last summer weekend here.
Gretchen Houser is a retired paralegal, published writer and poet, formerly of Edmonds, now residing in Seattle, devoted lover of books and frequent contributor to Northwest Prime Time.
SHARING STORIES is a weekly column for and about the 50 plus crowd living in the Puget Sound region. Send your stories and photos to ariele@comcast.net. Tell local or personal stories; discuss concerns around aging and other issues; share solutions, good luck, and reasons to celebrate; poems are fine too. Pieces may be edited or excerpted. We reserve the right to select among pieces. Photos are always a plus and a one-sentence bio is requested (where you live, maybe age or career, retired status, etc.).
SHARING STORIES is featured on www.northwestprimetime.com, the website for Northwest Prime Time, a monthly publication for baby boomers, seniors, retirees, and those contemplating retirement. The newspaper can be found in the greater Seattle area and other Puget Sound locations. For more information, call 206-824-8600 or visit www.northwestprimetime.com. To find other SHARING STORIES articles on this website type "sharing stories" in the search function above.