Cirque du Soleil's Volta Begins With WOW and Expands the Excitement From There
Volta Runs Under the Big Top at Marymoor Park in Redmond through November 4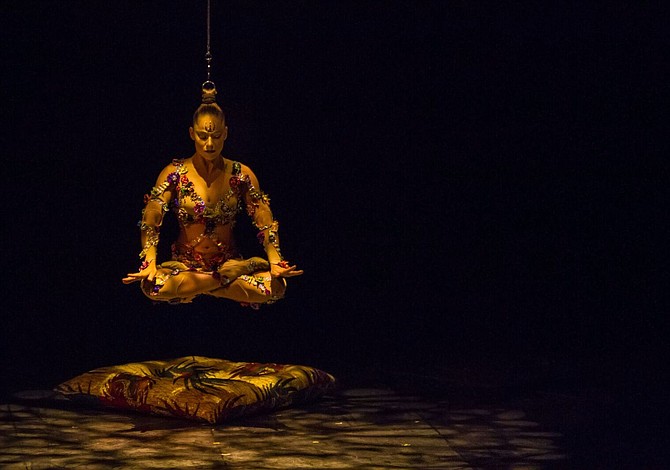 Cirque du Soleil's show Volta opened with a Premier at Redmond's Marymoor Park on September 11. As with all Cirque du Soleil shows, there is a plot, and as with all their shows that story is overshadowed by out-of-this-world performances and staging. The first scene is an outrageously fast-paced beautiful talent show called the Mr. Wow Show, and Volta ups the voltage from it until the big BMX finale in which bike riders fly off ramps accompanied by lighting and music in a way that goes well beyond amazing precision precision.
Volta mixes things up between loud flashy and light thoughtful scenes. Another highlight (actually almost every scene is a highlight) is the Mirage aerial performance of Danila Bim who swings high above the audience twisting and turning while suspended by her hair.
Although Volta's performers are clearly the best of the best, as with any live challenging performance, mistakes do happen. The crowd on Premier night, however, became even more exuberant and supportive in cheering on the follow-up try by both performers, who nailed their trick on the second attempt. This is the beauty of Volta and all live performances. Unlike a staid movie, the audience participates with their energy and enthusiasm.
And the audience for Volta was very enthusiastic, cheering and applauding each spectacular set of exquisitely costumed performers as they fused circus, theatre, dance and music into an evening of magical wonder that promises to entertain and astound. For more information and, pictures and videos check out the Volta website https://www.cirquedusoleil.com/volta.
All in all, Volta is a show that should not be missed.Volta continues under their Big Top at Marymoor Park through November 4.
L. Steven Sieden is a writer, event producer and global futurist. His books include "Buckminster Fuller's Universe" and "A Fuller View, Buckminster Fuller's Vision of Hope and Abundance For All". He has been reviewing Seattle area theatre and live entertainment since 2012.