Cut back on salt, but keep the crunch in your snacks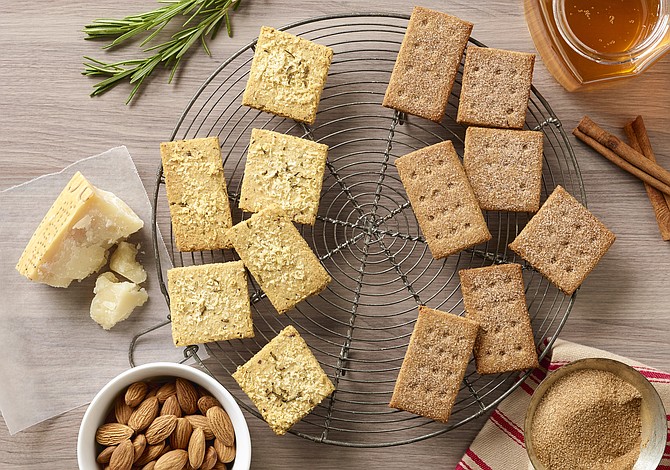 Snacks are one of the Top 10 salty foods in the American diet. Quick and easy to eat on the run, they are killing us. All that salt intake is problematic because it often leads to high blood pressure and other serious conditions, including heart and kidney disease.
How do you shift away from snacks that are salty, and make healthier choices? Reading labels really helps. You may find crackers with as much as 250 milligrams of sodium per serving on the same grocery shelf as brands that have none.
My new favorite is Ryvita Fruit and Seed Crunch Crispbread, which has only 2 milligrams of sodium per two large crackers. Plain matzo crackers and some rye crisp-type crackers also have no added sodium. For your best bet, look for crackers with no salt, or less than 20 milligrams per serving.
If you love a certain type of cracker, most brands now offer a lower salt or lightly salted option but, again, read labels and pay attention to portion sizes! A total of 150 milligrams of sodium for five crackers may sound like a good deal, but if you eat 20 crackers, you are nearly a third of the way to the suggested 2,000 milligrams of sodium a day.
Ideas to cut salt in crunchy snacks:
1.Try a lower salt option
2.Try a no-salt option
3.Add something to zip up the flavor of a no-salt cracker (see recipe below)
4.Make your own crackers (see recipe below)
Fresh herb crackers
1/4 to 1/2 cup olive oil
Sprigs of fresh thyme, rosemary, lemon thyme, sage
Sesame seeds (optional)
Cracked black pepper (optional)
1 box matzo crackers (You can usually find matzo in the imported food section of your grocery store. Read labels. Generally the plain varieties are low in sodium)
Set oven to 350 degrees. Put parchment paper on baking sheet. Cover with matzo crackers. Brush with oil, sprinkle with fresh herbs stripped off the steams, chopping them if needed. Add sesame seeds to some crackers, black pepper to others. Bake until edges of crackers are slightly browned, about five minutes.

Serves 10.
Nutritional information:
Calories: 149, Carbohydrates: 24 grams, Protein: 3 grams, Sodium: 0 milligram
Rosemary-sage crackers
1¼ cup all-purpose flour
1/3 cup whole-wheat flour
1 tablespoon finely chopped sage
1 tablespoon finely chopped rosemary
2 tablespoons fresh, finely shredded Parmesan cheese
3 tablespoons vegetable oil
1/2 cup water
1 tablespoon olive oil
1 teaspoon garlic powder
1/3 cup fresh, finely shredded Parmesan cheese
Preheat oven to 350 degrees. In a medium bowl, mix together flour, chopped herbs and 2 tablespoons Parmesan cheese. Make a well in the center of the flour mixture, and pour the vegetable oil and water into it. Mix with a fork until well blended. On a lightly floured surface, roll out the dough as thin as possible – less than 1/8 inch thick. Place dough on an ungreased baking sheet and score 1½-inch squares in the dough with a knife – cut only part of the way through. Prick each cracker with a fork 3 times. Brush dough with olive oil, sprinkle garlic powder and remaining Parmesan cheese on top. Bake for 15-20 minutes or until crisp and light brown. Let cool, then separate into individual crackers.
Yields 12 crackers.
Nutritional information:
Calories: 116, Carbohydrates: 13 grams, Protein: 3 grams, Sodium: 62 milligrams
The information in this column is meant for people who want to keep their kidneys healthy and blood pressure down by following a low-sodium diet. In most cases, except for dialysis patients, a diet high in potassium is thought to help lower high blood pressure. These recipes are not intended for people on dialysis without the supervision of a registered dietitian.
[Katy G. Wilkens is a registered dietitian and department head at Northwest Kidney Centers. A recipient of the Susan Knapp Excellence in Education Award from the National Kidney Foundation Council on Renal Nutrition, she has a Master of Science degree in nutritional sciences from the University of Washington. See more recipes at www.nwkidney.org.]