Halloween
Sharing Stories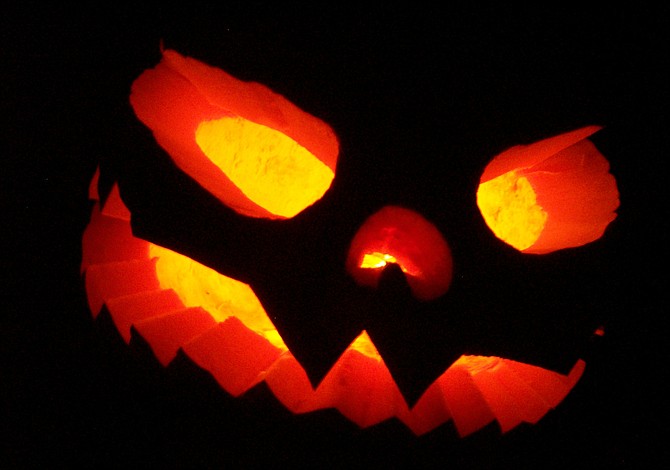 HALLOWEEN
When the pumpkins ripen in the fields,
dewy spider webs line the walk,
ripe apples fall from the trees,
and corn has cured upon the stalk.
Autumn has painted the hills and vales,
and leaves have turned to brown from green.
Frosty mornings chill our fingers.
It will soon be Halloween.
The Lord of Death will loose his legions,
with evil designs for them to weave.
Witches, Goblins, Devils, Ghosts,
will be freed on All Saints Eve.
We will keep our bonfires blazing,
adding branches to the fire.
Ghosts and Goblins stalk the darkness,
so we will build our fires higher.
In the darkness of the Glen,
if we should hear the Banshee's wail,
we'll crowd closer to the fire,
and drink courage from the ale.
Snicker Snee will lie beside us,
claymores girded round our waists,
and our bodies painted blue,
with holy protective pastes.
Yew, Rowan, Hazel wood,
and the Jack-o-lanterns' light,
mistletoe wove in our tresses,
will protect us on this night.
Those who know the Holy Oak,
all will gather for the feast,
and quaff ale to toast the Sky God,
till the sun rise in the east.
(This started out as an invitation to our Halloween party and was later modified into a poem.)
Del Gustafson is a cowboy poet from Nooksack, Washington where even the trains don't stop.
SHARING STORIES is a weekly column for and about the 50 plus crowd living in the Puget Sound region. Send your stories and photos to ariele@comcast.net. Tell local or personal stories; discuss concerns around aging and other issues; share solutions, good luck, and reasons to celebrate; poems are fine too. Pieces may be edited or excerpted. We reserve the right to select among pieces. Photos are always a plus and a one-sentence bio is requested (where you live, maybe age or career, retired status, etc.).
SHARING STORIES is featured on www.northwestprimetime.com, the website for Northwest Prime Time, a monthly publication for baby boomers, seniors, retirees, and those contemplating retirement. The newspaper can be found in the greater Seattle area and other Puget Sound locations. For more information, call 206-824-8600 or visit www.northwestprimetime.com. To find other SHARING STORIES articles on this website type "sharing stories" in the search function above.