Impress party guests with candied nuts and flowers and tasty low-salt cake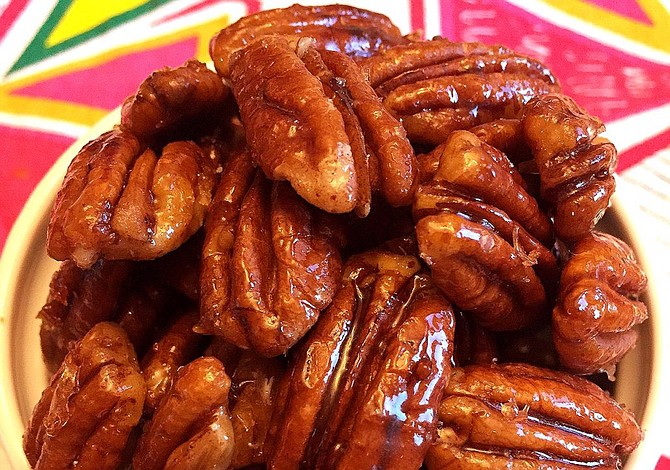 To impress guests at your next shindig without the hassle of making frosting flowers, "candy" some flowers by sugarcoating them. You can candy rose petals, pansies, apple blossoms, lilac, or borage as well as leaves of mint, sage, or tarragon. With a slightly different technique, in no time you can also whip up candied nuts, a perfect crunchy addition to many desserts.
Add candied flowers and nuts to a low-salt, kidney-friendly cake. Many cake mixes and self-rising flours have added salt, baking powder and baking soda. Salt is harmful, causing high blood pressure and kidney failure. Most of us eat way more than the 2,000 mg recommended daily limit because salt hides in prepared and packaged foods. Use this recipe to bake a yummy low-salt cake that won't make your kidneys work overtime.
Hot Milk Cake
Vegetable oil cooking spray
3 cups flour
2 teaspoons baking powder
2 teaspoons ground cinnamon
1/2 teaspoon ginger
1 cup unsalted butter, cut in small pieces
1 3/4 cups sugar
3 large eggs
1 teaspoon vanilla
1 1/4 cups whole milk
Heat oven to 350 degrees. Oil two 9 x16-inch glass cake pans. Line bottom with wax paper or parchment. For cupcakes, use a muffin tin with wrappers. Heat milk in a cup in the microwave for about 2 minutes or until hot. Set cup in a bowl of cool water until the milk is lukewarm. While milk cools, sift flour, baking powder and spices into bowl. Mix butter and sugar with a mixer on medium speed for 2 to 3 minutes. Beat in eggs one at a time, then add vanilla. Reduce speed to low. Add half of flour mixture. Add cooled milk, then the rest of the flour mixture. Pour into cake pan. Bake for 35-40 minutes (20-25 minutes for cupcakes) or until cake bounces back when touched in the middle, or a toothpick comes out clean when inserted. Let cool about 10 minutes, then remove from pan and cool completely. Cut in squares, dust with powdered sugar and serve with fresh berries, whipped cream and candied flowers.
Nutritional information
Calories: 200
Carbohydrates: 28 g
Protein: 3 g
Fat: 9 g
Sodium: 61 mg
Candied Flowers
1 beaten egg white, or pasteurized egg white
Superfine sugar, sometimes called castor sugar
Edible flowers, like rose petals, pansies, apple blossoms, lilac, borage or mint, sage, or tarragon leaves
Use a small brush or cotton swab to paint egg white on front and back of the petals. Put sugar in a shaker (an old spice bottle works well). Lay the flowers on wax paper and lightly shake the sugar on them. Turn over and do the same on the back. Let sit an hour or two. Store in an airtight container. These will keep about a year.
Candied Nuts
1 to 1-1/2 cup nuts (walnuts, pecans, hazelnuts)
1/2 cup sugar
1 tablespoon water
Sauté nuts and sugar in pan. Stir constantly to avoid burning. Sugar will liquefy. Keep stirring until nuts turn a light amber color. Remove from heat. Quickly place nuts on wax or parchment paper and spread them apart so they don't touch. If desired, sprinkle with cinnamon sugar or paprika, for a sweet hot kick.
[Katy G. Wilkens is a registered dietitian and department head at Northwest Kidney Centers. The National Kidney Foundation Council on Renal Nutrition has honored her with its highest awards: the Susan Knapp Excellence in Education Award and the Joel D. Kopple Award for significant contributions in renal nutrition. See more recipes at www.nwkidney.org.]