Seriously, go to Cleveland!
Travels with Deb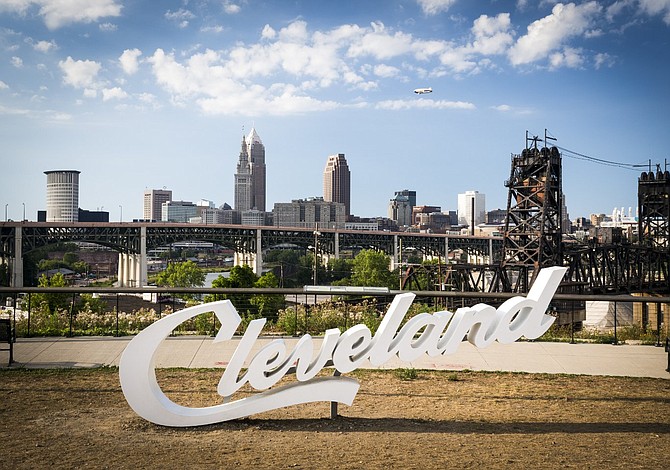 Music has always evoked strong memories in me. When I hear a familiar song from my past, I am suddenly transported back to a distinct time in my life, and the experience is vivid and visceral. This is especially true when it comes to the rock music of my youth and early adulthood. So, you can imagine all the emotions that began flooding over me as I stepped through the doors of the Rock & Roll Hall of Fame in Cleveland, Ohio.
A visit to the "Rock Hall," as it's commonly called by locals, is a pilgrimage for many people. They come from all over the country and around the globe to celebrate the music and pay homage to those who have played an important role in its creation and dissemination.
The nonprofit Rock & Roll Hall of Fame Foundation, which was established in 1983 by a group of leading figures in the music industry, was responsible for the development of the museum and Hall of Fame. After considering the bids of other American cities that had been seminal to rock history, the foundation located the museum in Cleveland, where local disc jockey Alan Freed had coined the term "rock and roll" in the 1950s.
The museum, which was designed by famed architect I.M. Pei, opened its doors in 1995. It's a striking 150,000-square-foot, pyramid style building set on the shore of Lake Erie. Inside is the world's largest collection of artifacts that span rock, pop, rap, jazz and R&B. If it has influenced rock and roll in any way – and let's be honest, very few musical styles haven't – it's represented. Artifacts include instruments used by famous musicians, stage clothing and props, drafts of song lyrics, original album art, posters and photos. Exhibits, many of which are interactive and multi-sensory, examine rock music in depth, from its origins and influencers, to its impact on society, culture and political history. And through it all, the sound of music is omnipresent. Plan to spend several hours exploring the place, as there are multiple levels of exhibits.
A highlight for many is "The Legends of Rock and Roll," a walk down memory lane, featuring the Beatles, Stones, Doors, Jimi Hendrix, the Who and more. In other galleries, you'll hear about the protests against rock and roll, flashback to the momentous "Summer of Love" in all its psychedelic glory and learn about the artists who are the roots to the music, reminding us that without such individuals as Mahalia Jackson, Hank Williams and Jimmie Rodgers, the music we celebrate today would have been inconceivable. The radio personalities who delivered the songs are also given their due, as are those who pioneered the audio technology and the creation of the electric guitar – thank you, Les Paul. And, of course, there's an exhibit devoted solely to Elvis, the King of Rock and Roll.
You can play rocked-out pinball machines, discover which artists inspired your favorite inductee, delve into the sounds of heavy metal, watch "Dick Clark's American Bandstand" and step into the "Power of Rock Experience," an adrenaline-fueled show that captures the excitement of a Rock Hall induction night. A new exhibit, "Stay Tuned," takes a look at the ways television brought artists into our living rooms, changed the way we looked at them and how those performances revolutionized TV itself.