Asian pears add variety to Northwest dishes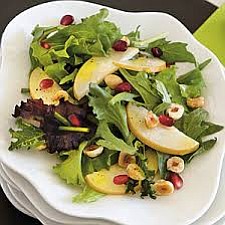 Variety makes life so interesting. I like it in my garden - and in my food. Take my Asian pear tree, for example. It's just one tree, but four kinds of Asian pears are grafted onto it – the early ripening Shinsui, the bold yellow Hamese, the apple-shaped Yongi and the brown russet Ichiban (my favorite). I get the best of all four worlds!
Dietitians always tell people to eat a wide variety of foods because this way you get different nutrients from different foods. Think of variety as a cheap insurance policy. If you eat a wide variety of foods, you won't get too much of one nutrient and too little of another.
Asian pears have the mellow, almost smooth, taste of a pear, but with the crunchiness of an apple. Their texture is more grainy than the buttery texture of European pears. Many varieties of Asian pears have russetted skin, and range in color from pale yellow to dark gold. Try them in these healthy, salt-free recipes. For variety, buy several kinds, or even add some European pears to use interchangeably or in combination.
Fall Asian Pear Salad
1/4 cup sugar
2-3 cups dark red leaf lettuce
2 Asian pears (peeled, cored and diced)
3 ounces blue cheese
1/2 cup pecans or walnuts
1/2 cup olive oil
1/3 cup balsamic vinegar
Melt sugar in nonstick fry pan, add nuts, and stir until coated. Remove from heat. Tear lettuce into individual salad bowls. Add pears, blue cheese and nuts. Put oil and vinegar into a glass jar with a lid and shake well just before adding to salad. Serves 4.
Nutritional information (per serving):
Calories: 506; Carbohydrates: 25 g; Protein: 7 g; Sodium: 305 mg
Katy's Asian Pear Caramel Upside-down Cake
1/4 cup unsalted butter
1/2 cup sugar
4 Asian pears (peeled, cored and quartered)
2/3 cup unsalted butter, softened
3/4 cup sugar
1 egg
3/4 teaspoon vanilla
3/4 cup milk
1 1/2 cups flour
1 1/2 teaspoons low-sodium baking powder
2 teaspoons ground cardamom
Heat oven to 350 degrees. Melt 1/4 cup butter in large, nonstick fry pan. Stir in 1/2 cup sugar. Put pears, cut side down, into mixture. Cover and cook on low to medium heat about 10-15 minutes, then remove lid. Check regularly to avoid burning, until sugar begins to turn brown and caramelize. Meanwhile, beat 2/3 cup butter and 3/4 cup sugar until light in color and fluffy. Mix in egg and vanilla. Mix flour with baking powder and cardamom. Fold into egg mixture with spatula, until just combined. Fold in milk.

Move pears and sauce into 8- or 9-inch round cake pan, leaving cut sides of Asian pears down. You can also make individual cakes in muffin tins, putting one quarter pear in each cup. Spoon batter evenly over pears. Bake until golden brown, about 20 to 25 minutes.
Cool cake about 5 minutes before removing from pan. Put a plate over pan and flip over until cake is released onto plate. Serves 8.
Nutritional information (per serving):
Calories: 358, carbohydrates: 40 g, protein: 2 g, sodium: 25 mg
The recipes in this column are meant for people who want to keep their kidneys healthy and blood pressure down by following a low-sodium diet. In most cases, except for dialysis patients, a diet high in potassium is thought to help lower high blood pressure. These recipes are not intended for people on dialysis without the supervision of a registered dietitian.

[Katy G. Wilkens is a registered dietitian and department head at Northwest Kidney Centers. The National Kidney Foundation Council on Renal Nutrition has honored her with its highest awards: the Susan Knapp Excellence in Education Award and the Joel D. Kopple Award for significant contributions in renal nutrition. See more recipes at www.nwkidney.org.]