Island time, Ohio style
Travels with Deb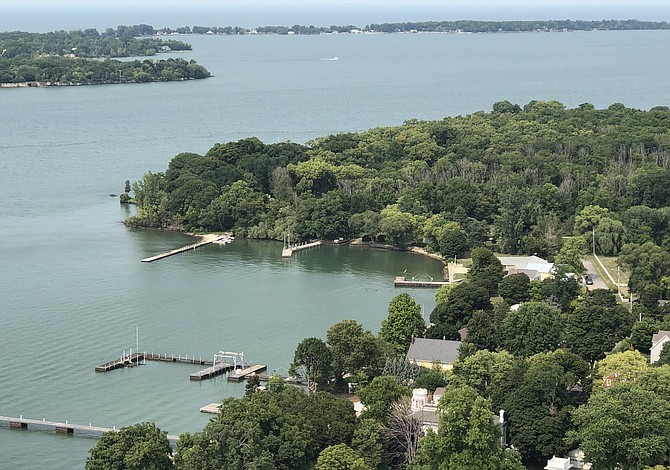 Most people are incredulous when they hear there are islands in Ohio, even residents of the Midwest. I was born and raised in Chicago and I'm embarrassed to admit I knew nothing of their existence. I had to look at a map for proof, but it wasn't until I actually visited the area that my doubts were dispelled.
Known as the Lake Erie Islands, these bodies of land are clustered together in the lake's western basin, north of Ohio's mainland. Easily accessible from the metropolitan centers of Cleveland, Columbus and Toledo, they're regarded as the Jersey Shores of the state and are a prime vacation destination for those in the region. There are over two dozen islands, a few of which are Canadian, but only five are inhabited and only three have ferry service.
I began my adventure with an exhilarating trip on the Jet Express, heading from Sandusky to South Bass Island. The boat is a high-speed passenger ferry that makes additional stops at Kelleys Island and Cedar Point. The latter is a famous amusement park, rated tops in the U.S., boasting over 150 rides, shows and attractions, including eighteen adrenaline pumping roller coasters. From aboard the Jet Express, the place looks like a tangled web of dramatic, high-flying rides. I gazed at the Steel Vengeance, the tallest, fastest and longest hyper-hybrid roller coaster in the world, and felt sheer terror coursing through my veins and vertigo symptoms on the rise. Thankfully, I didn't have to get any closer to that behemoth!
Put-in-Bay is an idyllic village on South Bass Island. The origin of the town's unusual name has two possible explanations. Historians believe it refers to the bay's use, as in the late 1700s, the schooners sailing on Lake Erie would shelter in the inlet to wait out bad weather. Some, however, think it derived from the harbor's shape, which according to an 1879 journal entry was described as a "pudding bag with a soft bottom."
Visitors have been coming to Put-in-Bay since the 1850s, when Jose DeRivera, a Spanish merchant, bought several of the islands, for a sum of $44,000, and began developing them. He was responsible for getting the grape-growing and wine-making industry started in the area, a business that still thrives today. The population grew as farmers came to the island to plant vineyards and others became involved in the resort business. Put-in-Bay became known as a place for vacationers to escape the city and "get away from it all."
The park downtown is named for DeRivera to honor his contributions to the island and there is a statue of him in the center of the park. Nearby, is a memorial erected from cannonballs. After the Battle of Lake Erie, officials buried three American officers and three British officers here together, as a symbol of unity. Their bodies were later exhumed and moved to Perry's Victory and International Peace Memorial when it was built. The cannonballs mark the original gravesite.
Put-in-Bay is a year-round community of approximately 350 residents that explodes to a cast of thousands in the summer, due to its resort-style popularity. The majority of visitors and locals get around the island via golf cart or bicycle. Golf carts are in abundance and are available to rent from a variety of shops in town. They're an easy and practical method of transportation to explore the miles of roads, parks, preserves and trails. It's quite a sight to see these carts lined up and parked all along the streets. Though cars are permitted, they tend to look out of place on the island.