Sugarcoated November
Sharing Stories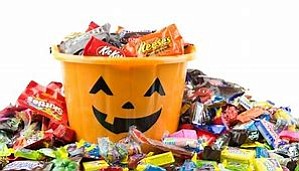 SUGARCOATED NOVEMBER
The last day of October, Halloween night, I turn off the house lights, remembering the time I wore a paper bag, colored in a smiley face with crayon drawings around a cutout mouth, nose, and eyes. I was an oh-so-clever senior citizen, handing candy to children who giggled at my bagged head. Until the late arrival of a teenager ringing the doorbell. Seeing my artwork, he asked in a snarky tone, "What kind of costume is that?" He stood under the porch light in all his teenage glory, costume free, dressed in ordinary clothes, with his hand out for a sweet snack. That was the moment I decided to call Halloween "November Eve," and would never again buy sweets at full price. So, the first week of November, I push a shopping cart to the aisle stocked with "seasonal sale" Halloween candy. I collect a supply of cheap tasty tidbits to chew away falling temperatures during autumn's early sunset hibernation. After years of enjoyment giving away candy, now, the days following Halloween have become time for my half-priced chocolate treats.
April Ryan is a sugar lovin' Seattleite.
SHARING STORIES is a weekly column for and about the 50 plus crowd living in the Puget Sound region. Send your stories and photos to ariele@comcast.net. Tell local or personal stories; discuss concerns around aging and other issues; share solutions, good luck, and reasons to celebrate; poems are fine too. Pieces may be edited or excerpted. We reserve the right to select among pieces. Photos are always a plus and a one-sentence bio is requested (where you live, maybe age or career, retired status, etc.).
SHARING STORIES is featured on www.northwestprimetime.com, the website for Northwest Prime Time, a monthly publication for baby boomers, seniors, retirees, and those contemplating retirement. The newspaper can be found in the greater Seattle area and other Puget Sound locations. For more information, call 206-824-8600 or visit www.northwestprimetime.com. To find other SHARING STORIES articles on this website type "sharing stories" in the search function above.