Wheelchairs and Mountains Can Mix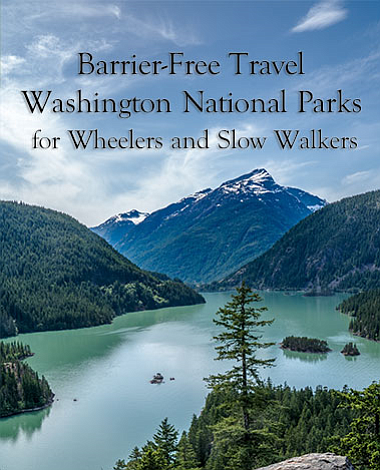 New book explores wheelchair-friendly access in Washington's National Parks
At first glance Mount Rainier might not appear to be the best vacation choice for wheelchair-users and slow walkers. After all, the namesake mountain towers some 14,000 feet over the surrounding national park. On the other hand, a new book, Barrier-Free Travels: Washington National Parks for Wheelers and Slow Walkers, describes how all three of the Evergreen State's national parks offer accessible options for folks who use wheelchairs, walkers, canes and crutches.
This handy guide includes information on accessible trails, attractions and lodging options in and near Olympic, Mount Rainier and North Cascades National Parks, including:
• Access details of all park lodges
• Information on accessible ranger-led tours
• Special access passes and discounts
• Details on accessible trails and attractions
• Scenic drives and accessible viewpoints
• Barrier-free camping
• Locations of loaner wheelchairs
• Accessible rental van information
This new book also includes information on the progress of the Spruce Railroad Trail, located on the north shore of Lake Crescent. The trail follows the historic grade of the Spruce Railroad, which was abandoned in 1951. When completed, this nine-mile trail will connect the east and west trailheads with the entire length paved and wheelchair-accessible. "I've been following this project for years, and I'm looking forward to its completion in 2019. When complete, it will effectively triple the length of accessible trails in the park," said author Candy Harrington.
Admittedly, Harrington had some doubts about the accessibility of these parks before she started her research. "For a long time, I listened to the naysayers who told me that North Cascades National Park wasn't at all wheelchair-accessible," explains Harrington. "But after I visited it, I discovered a veritable treasure trove of accessible trails along the North Cascades Highway and I'm extremely excited to share them, and information about access to all of Washington State's National Parks, with my readers."
Harrington's series of books also features other national parks. Although these books were written for wheelchair-users, moms with stroller-aged kids or any slow walker will appreciate the access information in this guide.
Known as the guru of accessible travel, Candy Harrington has researched her niche for over 20 years. More access resources for America's national parks can be found at www.BarrierFreeNationalParks.com, or check out www.BarrierFreeTravels.com for more accessible travel tips.