It's all about authenticity in the 'original' Las Vegas
Travels with Deb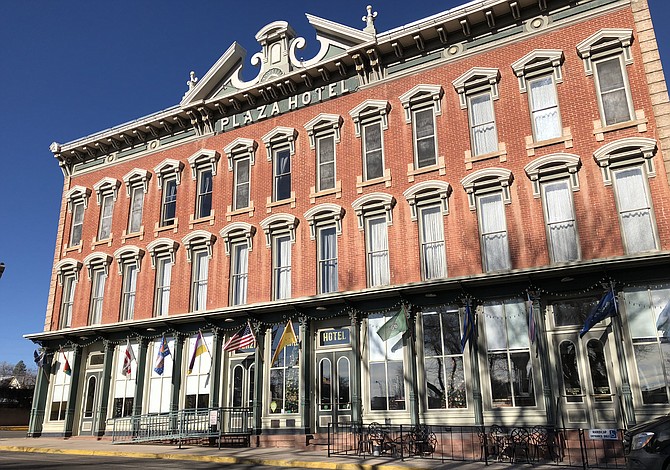 Hendrickson proudly calls herself an Indian Detour Courier, reminiscent of the tour guides of the same name, who played a major part of the Fred Harvey travel industry. Their role was to enlighten travelers on the history and unique beauty of the Southwest. Harvey established the famed Harvey Houses, a chain of hotels typically located "trackside" for passengers of the Atchison, Topeka and Santa Fe Railway System traveling between Chicago and California. He recognized the need for comfortable accommodations, as well as good restaurants with quick service that travelers could rely on during their journey. To serve his customers, he employed young, "respectable" women, who were then trained to be the epitome of efficiency and professionalism. The Harvey Girls, as they were called, wore black uniforms and white starched pinafores, and lived in dorms complete with a house mother and strict rules. At the time of Harvey's death in 1901, the legendary hospitality and tourism company operated 47 Harvey House restaurants, 15 hotels and 30 dining cars.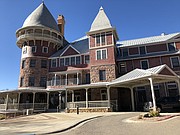 Las Vegas boasted two Harvey Houses at the height of its economic prosperity. The Montezuma, circa 1882, was Fred Harvey's first luxury resort hotel, located northeast of town in Gallinas Canyon. Designed by well-known Chicago architects, Burnham and Root, and constructed with locally quarried red sandstone and slate, "The Castle" was a Queen Anne masterpiece, complete with turret. It had a grand ballroom, casino, bowling alley, billiards room and many extravagances. The place attracted well-heeled clientele, in addition to those with tuberculosis and other ailments, as the quality of air and water was known to be quite healthy. The nearby hot springs (still in existence and free to the public) also contributed to the hotel's wellness allure. Over the years, anybody who was anyone stayed at the resort, including such prominent figures as Teddy Roosevelt, Ulysses S. Grant, General Sherman, Emperor Hirohito, Rutherford B. Hayes and others.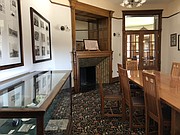 The resort unfortunately burnt down not once, but twice, and was subsequently rebuilt at the railroad's expense. Eventually, the place went into decline and closed its doors in 1903. The property then served a succession of purposes – Baptist College, YMCA and Mexican Jesuit Seminary – before being purchased in 1981 by Armand Hammer for the establishment of The United World College of the American West. This campus is the location of the only United World College in the U.S. It is one of seventeen such institutions around the world. Students come from more than eighty countries to attend the college, creating an international educational setting that helps to foster greater cultural understanding. Upon completion of the rigorous two-year college prep program, they earn an International Baccalaureate Degree.
As you tour the place, Hendrickson will recount its history and regale you with a few colorful tales. Purportedly, the Montezuma is haunted. Story has it that years ago an opera diva threw herself from the turret. Some students say they can hear her disembodied voice coming from that area of the building, practicing her arpeggios. When the castle stood empty for a period of ten years, it went into a state of disrepair and the place took on an eerie pall. Hollywood discovered it and used it as the location for the 1978 horror movie, "The Evil."